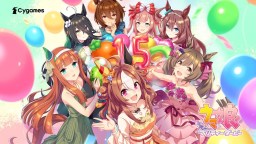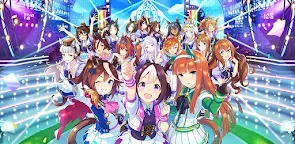 Uma Musume Pretty Derby | Bản Nhật
Uma Musume: Pretty Derby
Developer: Cygames, Inc.
☞ Other Version(s): Bản tiếng Trung giản thể | Bản tiếng Trung phồn thể | Korean
Uma Musume Pretty Derby là một trò chơi mô phỏng về chủ đề đua ngựa được phát hành bởi Cygames cho các nền tảng Android, iOS và PC. Hiện tại thì game chỉ có phiên bản tiếng Nhật. Ngoài game, Uma Musume còn có cả anime, manga đặt cùng bối cảnh với trò chơi.
Hầu hết các nhân vật trong Uma Musume được lấy cảm hứng từ những chú ngựa đua ngoài đời thật, người chơi sẽ vào vai một nhà huấn luyện nghiệp dư để huấn luyện các cô gái ngựa, giúp họ chiến thắng giải đấu Twinkle Series và đạt được ước mơ của họ.
Sau khi chọn ngựa đua, bạn sẽ phải huấn luyện họ dựa trên các thuộc tính như tốc độ, thể lực, sức mạnh, tính khí, trí tuệ, ... (Một vài thuộc tính có thể được kế thừa bởi các nhân vật khác)
Trong quá trình huấn luyện, các cô gái ngựa có thể phải đương đầu với các trở ngại khác nhau và bạn sẽ phải là người đưa ra chỉ thị và giúp họ giải quyết vấn đề.
Ngoài các cuộc đua thường ngày, trò chơi sẽ có nhiều sự kiện được tổ chức theo mùa và thời gian ngoài đời thực.
Dàn nhân vật:
Special Week (CV: Azumi Waki)
Silence Suzuka (CV:Marika Kouno)
Tokai Teio (CV: Machico)
Oguri Cap (CV: Takayanagi Tomoy)
Gold Ship (CV: Hitomi Ueda)
Vodka (CV: Ayaka Ōhashi)
Daiwa Scarlet (CV: Chisa Kimura)
Mejiro McQueen (CV: Saori Oonishi)
Symboli Rudolf (CV: Azusa Tadokoro)
Rice Shower (CV: Iwami Manaka)
Haru Urara (CV: Yukina Shutō)
Nice Nature (CV: Kaori Maeda)
và nhiều hơn nữa!
2124216
My friend sent this picture to me and i want to know twin turbo is in the game or this is a model character? Thanks for replying
1536201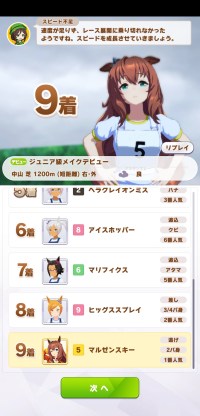 My highbreed Maruzen lose debut race and got last place
...
Tazuna say my Maruzen don't have enough speed
...
But other UmaMusu not even have more than 100 stat
...
Well no luck...

Loading...