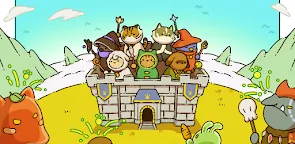 Zoocastle
Developer: gameduo
Zoocastle is a casual game developed by gameduo.

Oh, no! Here come the mean monsters again.
And when Zoocastle is the only castle left standing in the world, too.
Are you ready to defeat monsters from vast lands and become the wizard to bring peace to this world?
-Summon and combine different magic! Combining magic changes the outlook and increases power.
-Go AFK to power up! Grow anytime, anywhere.
-Discover new stages! Explore and defend various maps.
-Ask teammates for help! Sometimes hunting alone isn't enough. Collect colleagues and family you can depend on!
- Privacy Policy:
https://gameduo.net/privacy-policy
- Terms of Service:
https://gameduo.net/terms-of-service
Loading...