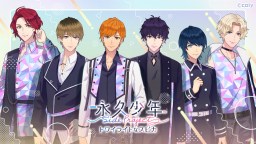 Eternal Boys Side Project
Eternal Boys Side Project
Developer: coly Inc.
Eternal Boys Side Project là một game dạng tiểu thuyết tâm thanh được phát triển bởi coly Inc..
Game được dự kiến sẽ ra mắt vào năm 2023.
Eternal Boys (永久少年, Eikyū Shōnen) là một bộ anime được sản xuất bởi Liden Films. Series được chiếu trên Fuji TV vào 11 tháng 10 năm 2022. Câu chuyện của Eternal Boys nói về sáu người đàn ông tuổi trung niên đã trải qua nhiều thăng trầm trong cuộc sống. Một ngày nọ, họ quyết định trở thành một nhóm idol và vượt qua rào cản tuổi tác và thể chất của mình.
Game sẽ dựa trên bối cảnh của anime nhưng sẽ kể một câu chuyện hoàn toàn khác. Người chơi sẽ đóng vai một người quản lý hỗ trợ các idol mới.
Hai nhóm idol được dự kiến sẽ xuất hiện trong game là Story of Love và Gentleman. Dàn diễn viên lồng tiếng cho game cũng đã được hé lộ.
Story of Love:
Souki Azuma – CV: Chiaki Kobayashi
Kento Takanashi – CV: Shugo Nakamura
Nobunaga Odagiri – CV: Keisuke Kōmoto
Sakura Kagurazaka – CV: Shun Horie
Tomotaka Higashijujo – CV: Haruki Ishiya
Lin Junjie – CV: Arthur Lounsbery
Gentlemen:
Sawao Sota – CV: Showtaro Morikubo
Etsuro Aizen – CV: Takuma Terashima
Renji Ii – CV: Jun Kasama
Hajime Hakosaka – CV: KENN
Loading...