How To Raise A Harem
How To Raise A Harem
Developer: TS studio
How To Raise A Harem là một game anime thẻ bài với nét vẽ vô cùng hấp dẫn. Trong game, người chơi sẽ được tham gia vào một chuyến hành trình ở một thế giới hoàn toàn xa lạ. Nơi mà những bé loli dễ thương hay những bà chị ngực bự đang chờ để được gặp bạn.

【Hàng trăm người đẹp khác nhau ở khắp mọi nơi】
Dù là một cô gái năng động hay lạnh lùng, rụt rè hay mạnh bạo, bạn sẽ luôn tìm được một người phù hợp với mình trong hàng trăm cô gái xinh đẹp tụ họp tại nơi đây!

【Thư giãn và giành chiến thắng cùng lúc】
Với gameplay vô cùng đơn giản và cơ chế tự động, bạn có thể dễ dàng chơi ở bất cứ đâu, dù là đi học, đi làm hay xem phim, bạn sẽ nhận được vô vàn tải nguyên chỉ bằng cách mở game. Chơi mọi lúc mọi nơi theo nhịp độ của riêng bạn!

【Những cuộc hẹn hò bí mật】
Hãy tăng điểm thân mật của bạn qua những cuộc hẹn hò, gây ấn tượng và chiếm lấy trái tim của họ. Tự tạo ra chuyện tình của riêng bạn tại thế giới mới này!

【Thưởng thức cả âm thanh và hình ảnh】
Với sự tham gia của nhiều seiyuu nổi tiếng, đồ họa Live2D sống động và hình minh họa dễ thương, chắc chắn bạn sẽ có một trải nghiệm bổ cả tai lẫn mắt!
1907512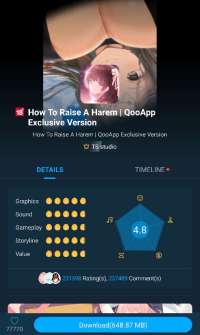 #QooMystery (You are invited to solve this mystery together)
When you are running out of idea for interesting things, QooApp always gives you new mystery to solve.

Take a look at the following games, their ratings, their Followings, etc.:
1896707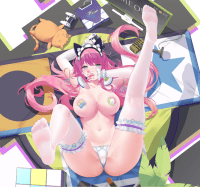 #QooAppXHtRaH_1st_Collaboration!
(Unofficial OFC!
) (NSFW tag for R15 posture)
Since I was editing Elly, I decided to make her into a collaboration for <How to Raise a Harem> before the official does it in the future!

Collaboration Elly! —
Loading...