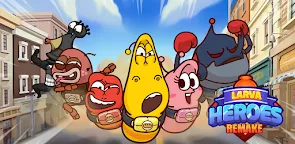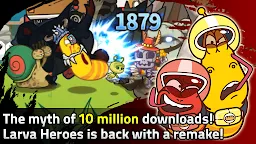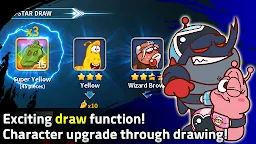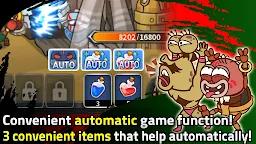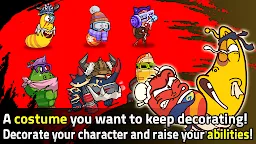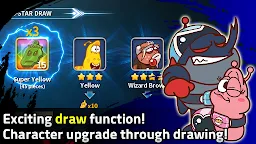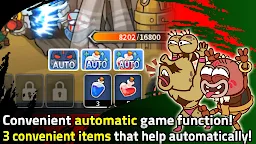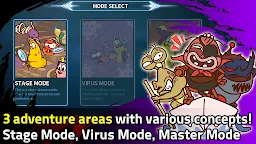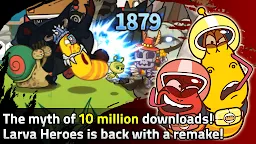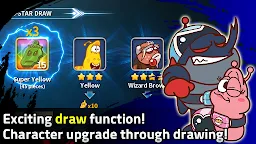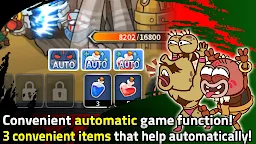 Larva Heroes : Remake
นักพัฒนา: tubaN
Larva Heroes : Remake is an action game developed by tubaN.

Protect the Earth of Larva Heroes created based on the Ravengers episode story!!
Become the protagonist of Larva Heroes now!
★ New Content ★
◼︎ 3 adventure areas with various concepts!
- Stage Mode : Clear the stage and raise your hero's level!
- Virus Mode : Defeat monsters infected with powerful viruses!
Collect hero fragments and soul beads that are only available in virus mode.
- Master Mode : Defeat the most powerful monsters!
If you want a lot of rewards, we recommend Master Mode!
◼︎ A costume you want to keep decorating!
Dress up in various costumes that decorate your Larva character and increase your stats.
◼︎ Exciting draw function!
Character upgrade through draw!
Multiple grades of characters, costumes, and even hero pieces at once!
◼︎ Various reward systems
Daily events in which rewards are given just for mail attendance, more rewards if you attend consecutively!
Reward system daily mission through mail given mission!
◼︎ Convenient automatic game function!
3 types of convenient items that help automatically without control!
A convenient function that automatically pulls out units and automatically uses HP potions and MP potions!
◼︎ 10 hero character friends to fight like hero appeared
Yellow, Red, Super Yellow, Mask Red, Cyborg Red, Steel Red, Viking Red, Ninja Red, Kung Fu Red, Zoro Red
◼︎ Stage by difficulty
As the setting changes according to the difficulty, the fun and tension are doubled.
Beginners play mainly in Normal mode If the level is high, try the Master mode
◼︎ Jack Captain Fortune Cookie Drawing
One coupon is paid when the stage is cleared by each difficulty level.
You can find it when you find Captain Jack on the World Map.
Fortune cookies are like random vending machines that can be pulled through gold, items, and magic candy.
◼︎ Hero transformation system
Hero (hero character) can transform into a warrior character enhanced during the game.
If you change your appearance, change or upgrade your ability to separate
You can use skills.
It is a game element that gives the opponent an opportunity to play back opponent.
◼︎ Mission is 3,6,9
There are three separate missions on stage 3, 6 and 9 for each world.
Escort 3 missions / pink! : It is mission to escort pink to base station.
6 Mission / Stop enemy wave attacks! : Wave attack following 5
It is a mission to block with hero friends (party players) defined in the game.
Destroy the enemy with 9 missions / units only! The hero disappears. And … .
Regardless of the Vienna gauge, you only need to win the battle against the enemy with unit production.
Are you embarrassed because you do not have a hero? customer!!!
★ How to collect magic candy ★
1. Collect Jack Captain coupons to open fortune cookies and draw magic candy.
2. Clear the stage to get a fortune cookie.
3. Open a new world and receive 10.
4. Raise your skills and collect in Master Mode Clear Reward (get more boss stages)
※ Pivacy Policy
http://www.tubaani.com/abc.html
※ Details of required access rights
- Contacts: The app can also read and edit contacts using the contacts of the user's device.
(You can get paid after watching video ads.)
- Mobile phone: You can change the usage status of your mobile phone. (Read status and ID)
- Device ID and call information: It is possible to set to not change to sleep mode during game.
- Miscellaneous: Enable vibration, check network and WIFI connection status.
* Unauthorized privileges and functions through the ability to revoke authorization of a terminal's access right or delete an app
You can deny access to.
* If you are using Android OS version 6.0 or lower
You can not. In this case, make sure that you can upgrade your operating system to 6.0 or later.
After upgrading, you need to re-install the app to be allowed by permission.
กำลังโหลด