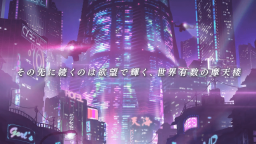 ROAD59
นักพัฒนา: 株式会社ブシロード
ROAD59 is a brand new multimedia project developed by Bushiroad in Japan following "BnaG Dream!", "Girls ☆ Opera Revue Starlight" and "D4DJ". This work will take the new era of "Ren Xia Wu" as the theme . The stage of this work is set in Tokyo's "Tenkai District" decades after the "zero sum" era. The huge artificial island "Tianhai District", which was born with huge investment at home and abroad, has undergone multiple development and is divided into an old city block mixed with old days and a bright new city block. There are not only "National Highway 59" running through Tokyo Bay, but also skyscrapers shining with desire.
【Story】
It has been decades since the zero-sum era began.
The Street That Never Sleeps, Tianhai District.
In its shadow, the 4 organizations that "ZINGI" is divided into compete with each other for power.
Not bound by the rules of the times, the "Spring Cloud Group" lives freely.
With family-like bonds, the traditional "Komaranami-gumi" is valued.
Using money and power to gain the upper hand, the "Black Bar Group" is extremely powerful.
Networks all over the world, overseas mafia joint organization "PHOENIX".
Just as all organizations are using all their power and tactics to get caught up in this tug-of-war,
The information about the "Head of the Great Serpent of Yezhen", which was sealed in the underground of the Tianhai District, came out.
It is said that by drinking its blood, one can gain power equal to that of a god.
The "Head of the Serpent in Yezhen", who can change the social forces in the city suddenly,
And the key to unlocking the seal——the "girl" who inherited the blood of ZINGI,
This is where the war between the two begins.
กำลังโหลด