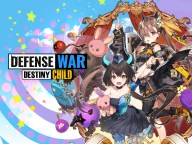 Destiny Child : Defense War
Destiny Child: Defense War
นักพัฒนา: Thumbage
ยินดีต้อนรับทุกท่านเข้าสู่สนามรบของเหล่าปีศาจ ร่วมชิงชัยชนะ ในสนามรบแห่งใหม่ ไปพร้อมๆ กับเหล่าตัวละครสุดฮิตแห่ง Destiny Child พร้อมเลือกใช้กลยุทธ์ของตนเอง เพื่อคว้าชัยชนะได้แล้ว วันนี้!

ขอเชิญทุกท่านพบกับ Destiny Child!
พร้อมกับเหล่าไชลด์ ดาบิ, โมนา, ลิซ่า, เฟรย์ จากผลงานต้นฉบับ! และร่วมพิทักษ์ผู้ท้าชิงบัลลังก์ราชาปีศาจ พร้อมคว้าชัยชนะในสนามรบ

เข้าร่วมต่อสู้กับเหล่าผู้เล่นจากทั่วทุกมุมโลก ในรูปแบบเรียลไทม์!
ต่อสู้กับเหล่าผู้เล่นมากมาย จากทั่วทุกมุมโลก เพื่อเข้าท้าทายในอารีน่าชั้นสูง อีกทั้งยังสามารถแข่งขันกับผู้เล่นชั้นสูงท่านอื่นได้ ในลีกเดวิลโคลอสเซียม พร้อมทั้งร่วมต่อสู้ไปกับเพื่อนๆ และเหล่าสมาชิกแคลน

ประชันกับเหล่าผู้เล่นที่เปี่ยมไปด้วยกลยุทธ์ต่างๆ มากมาย!
สร้างความแข็งแกร่ง ด้วย Mastery และสกิลผู้ท้าชิงรางวัลปีศาจ ในยามวิกฤติ พร้อมทั้งตรวจสอบข้อมูลคู่ต่อสู้แบบเรียลไทม์ เพื่อวางกลยุทธ์สุดแยบยล ในการรับมือ

ลักษณะพิเศษ
· ตัวละครสุดฮิตมากมาย จาก Destiny Child
· ตัวละครรูปแบบ 2D LIVE ที่มีชีวิตชีวา
· เกมวางกลยุทธ์ป้องกัน ที่รวดเร็ว ไม่ซับซ้อน
· การต่อสู้แบบเรียลไทม์ กับเหล่าผู้เล่นจากทั่วทุกมุมโลก
· รับไชลด์ใหม่ๆ จากการท้าทายในอารีน่าชั้นสูง
· คว้าเกียรติยศอันยิ่งใหญ่ จากลีกเดวิลโคลอสเซียม
· เลือกสรรลักษณะเฉพาะของแต่ละตัวละคร เพื่อสร้างทีมของตนเอง
· เพิ่มขอบในการวางกลยุทธ์ ด้วยสกิลผู้ท้าชิงรางวัลปีศาจ
· ระบบ Mastery ที่เปลี่ยนแปลงตามการตั้งค่า

จำเป็นต้องทำการเชื่อมต่อเน็ตเวิร์ค เพื่อทำการเล่นเกม
ซึ่งหากทำการเชื่อมต่อ Wi-Fi จะช่วยอำนวยความสะดวก และเพิ่มความรวดเร็วในการเล่นเกม

784795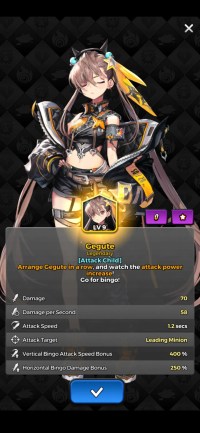 Did you know that what interesting about Gegute is she looks sexy. But what I hate is that she is legendary. I want this girl so badly! What's worse is that she doesn't appeared in original Destiny Child!
783203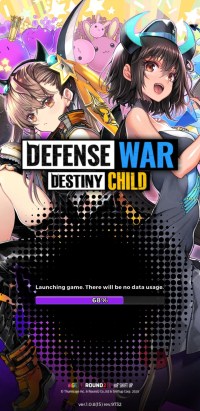 When I heard that Destiny Child was going to have a defense game, I was interested, but when I saw news and images of its gameplay and game style, I was very hesitant to give the game a shot. Eventually decided to give the game a shot, and few hours later I find myself hooked and loaded to keep playing this game on the fly. Here's why!

Story 1/5
You start the game by being brought into a tutorial battle. From there on you get your first set of destiny childs and rewards for proceeding through the 'story'. Once completed you are left to play against other players and rank up to get more childs cards and shards to power up and create your team of familiar and favorite childs. No story atm for he most part, but that's to expect from these type if genres.

Music 3/5
Remember the feeling of playing destiny child for the first time? That cheerful and playful background music that plays when you're ready to jump into the fray. That battle soundtrack that hypes you to stay on your feet. That's what you will be expecting throughout this game. For new players, these will be running through your ears for the most part. Nostalgic to me for sure.

Gameplay 4/5
You and a player are placed in a match to place your childs at random on your own board. Your childs will fight against hordes if enemies who will try to reach and attack your leader. You merge your childs to increase their stars to boost them, plus ranking your childs raise them up even more. The match will keep going until one of the players lose all three of their hearts. Very simple gameplay, but very addictive and amusing for some reason. Helps to pass the time, especially if you are waiting for your stamina from other games to replenish just like me xD

Design 3/5
The childs 2d arts are taken from destiny child so expect some really eye candy designs since that is what the game is very much known for. As for battle designs, very mediocre but I don't mind it at all. The matches are more about performance than the looks. Simple and pleasing to the eyes is all that is needed to make me play the game for hours.

Gacha 1/5
No gacha system, but instead you collect cards or shards of destiny childs to level up and make your cards stronger. You gain more from the shops, and mostly from doing matches that reward you with chests that have gold, gems and shards inside. The downside of this is the chests have a count down before you can open them, and sadly for f2p, you can only activate chests one at a time or open them instantly with gems.

Cash Grab 2/5
There are packages and items for real money to make your gameplay experience easier and smooth, but it isn't necessarily needed in order to progress. You can play through as f2p but progress will take time. The only reason I found that spending money is an A-ok is for the destiny pass which will allow the player to open multiple chests rather than one at a time (not quite sure but it does make that feature convenient to get more items faster)

Overall 3/5
I ended up playing the game 2 hours straight just heading into matches that just take seconds to start and keep pressing the screen to power up my team. There isn't much need to organize or plan, but later on as you get deeper into the game strategy will definitely play a role in ranking up to reach top 10 or even the best player in the game.

Thanks for reading my review for destiny child defense war. Give a game a try especially if you are looking for one as a side pass time to keep aside your main games until your stamina is recovered. What do you think? Have a nice day.

กำลังโหลด