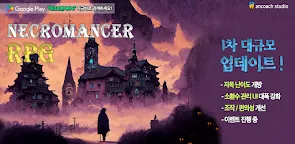 RPG Necromancer
RPG Necromancer
Developer: Ancoach
RPG Necromancer is a dark fantasy RPG developed by Ancoach . In this game, players can create your own powerful Summoner!
Necromancers can resurrect enemies and control them.
45 kinds of various summons, 9 kinds of powerful summons at the captain's level!
Each summons can be infinitely strong through reinforcement.
Use items and spirits with various special abilities to grow even more.
Various growth factors are waiting for you to make your army strong!
Loading...