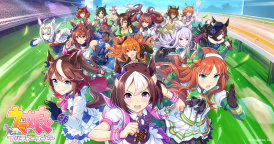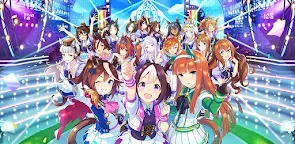 Uma Musume: Pretty Derby | Japanese
Uma Musume: Pretty Derby
Desenvolvedor: Cygames, Inc.
Uma Musume Pretty Derby is a simulation game released by Cygames for Android, iOS, and PC (DMM GAMES) platforms. The game is only available in Japanese for now. Besides the game Uma Musume Pretty Derby, Uma Musume also has a series of anime, manga, etc.
Most of the characters in the game use real-life racing horses as their prototypes. Players will act like a newbie trainer to help the Uma Musume to win the Twinkle Series tournament and fulfill their dreams.
After players pick their horses, they will need to train them based on their attributes including speed, stamina, power, temper, intelligence, etc. ( Some of the attributes can be inherited by new characters)
During their training, your Uma Musume may come across different obstacles. It is your job to communicate and solve their problems!
Moreover, the game will hold various events according to actual time and seasons.
Cast:
Special Week (CV: Azumi Waki)
Silence Suzuka (CV:Marika Kouno)
Tokai Teio (CV: Machico)
Oguri Cap (CV: Takayanagi Tomoy)
Gold Ship (CV: Hitomi Ueda)
Vodka (CV: Ayaka Ōhashi)
Daiwa Scarlet (CV: Chisa Kimura)
Mejiro McQueen (CV: Saori Oonishi)
Symboli Rudolf (CV: Azusa Tadokoro)
Rice Shower (CV: Iwami Manaka)
Haru Urara (CV: Yukina Shutō)
Nice Nature (CV: Kaori Maeda)
and more!
Official website: https://game.umamusume.jp/
Official Twitter: https://twitter.com/uma_musu
---Below is the information provided by the developer---
☞ Outra versão: Traditional Chinese
Uma Musume: Pretty Derby
is a casual game developed by Cygames.
Uma Musume is anther specie that has inhabited human's world for a very long time. One of them, Special Week, transfers from her suburban hometown to the training centre academy in the city. There, she begins her exciting journey to becoming "The NO.1 Uma Musume of Japan".
1597659
eu queria entrar em um clã BR pra receber uma ajuda, ainda nao sei umas coisas sobre o jogo kkkk
E recentemente peguei a McQueen, queria compartilhar minha felicidade aaaa
1536201
My highbreed Maruzen lose debut race and got last place
...
Tazuna say my Maruzen don't have enough speed
...
But other UmaMusu not even have more than 100 stat
...
Well no luck...

Carregando...