100 Sleeping Princes & the Kingdom of Dreams | Korean
꿈왕국과 잠자는 100명의 왕자님
Desenvolvedor: SESISOFT CO.,LTD.
☞ Outra versão: Japonês | Chinês Tradicional | Chinês Simplificado
100 Sleeping Princes & the Kingdom of Dreams
is a robust free-to-play puzzle RPG and visual novel where players role-play as a princess who finds herself in the Kingdom of Dreams. As the dream eaters have made the princes fallen asleep, players must awaken them to save the kingdom. When players improve their relationship with the princes, they will discover the secrets and the stories of them. Players can also develop a romantic relationship with one of them later in game. The game is fully voiced and the roster of its voice actors is incredible, making it more enjoyable to read the story. Those who love to play otome games must try this game out!
383599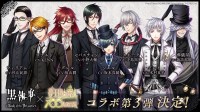 ***"100 Sleeping Princes & the Kingdom of Dreams" X "Black Butler" 3rd Collaboaration Starts on 10th February 2020!
It is the third collaboration with the anime film " Black Butler Book of the Atlantic"
Not only will the collaboration characters from the previous collaboration appear again, new memory piece featuring Black Butler will also be available!

Carregando...