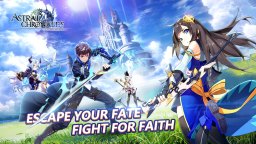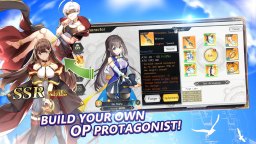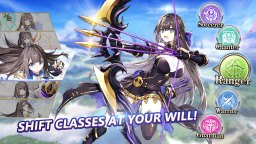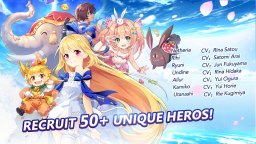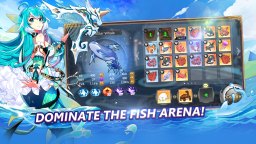 조물2:아스트랄 크로니클 | 글로벌버전
Astral Chronicles (Law of Creation 2)
개발자: uBeeJoy
식물어 | 싱가포르버전/말레이시아 버전

The Tale of Food | SG & MY
[해당 게임은 서비스를 종료하였습니다.]
☞ 다른 버전: 중문번체버전 | Japanese | 중문간체버전
This is the fantasy JRPG where you've been chosen to be the million to one hero that can challenge fate. The miles of challenge and mystery lie before you. Will you be the last hope to reverse the wheel of fate?
A mystic call brings you into the Astral Realm, a world of magic and wonder.
Across a vast, forbidden ocean, soars a dragon in the night sky.
Below, hidden in the forest depths, the purest of the Elves conceals her essence.
In the center of the continent, the Tower of Babel is seen extending from a great city,
All around, live greedy but diligent Orcs, Dwarves of great intellect, and endearing Gutes…
Unlike the story you used to meet before, in this game, there's a sad story given as to why the villains are behaving a certain way, and there's evil resides within the envoy of justice. The intertwining storylines will bring you an unprecedented captivating RPG experience!
————————————————————
EMBARK ON AN EPIC ADVENTUROUS JOURNEY
Explore a vast open world as you seamlessly transition from one environment to another, unraveling plots of intrigue in this side-scrolling adventure! Venture on mysterious rewarding quests and win epic loot. Take care, don't be deceived by the innocent-looking characters on your journey!
RECRUIT MORE THAN 50 UNIQUE HEROES
More than 50 legendary heroes of unique personalities and stories at your beck and call. Recruit these heroes and enlist a versatile squad by bringing together powerful combinations of heroes!
CAST SPELLS IN THRILLING BATTLES
Cast your own spells in battle by scribing runes with your fingertips. Unleash more than 200 unique skills that you learn from your heroes.
SHIFT AMONG 5 CLASSES AT YOUR WILL
Choose from 5 different and highly customizable classes ranging from Warrior, Guardian, Ranger, Sorcerer and Chanter. Shift to other classes anytime you want to build a new lineup and Turn the tides of battle with tactical gameplay.
ALL-STAR CAST OF JAPANESE VOICEOVERS
Musical composition:
Noriyuki Iwadare (Grandia, Phoenix Wright, Langrisser)
Japanese Voiceover:
Jun Fukuyama, Kumiya Rie, Yukari Tamura, Satomi Arai, Yui Horie, Yui Ogura, Shinohara Yu, Takuya Nakashima, Inoue Hinohana, Ishiro Kurosaki, Yukizaki Tsuki, Sugawazu, Yushu, Akari Uehara, Kumagai Kari, Yasuko Yasuda, Kamisumi, Kajiwara Takehito, Taisuke Nakano, Takayagi Tomokano, Shino Shiina, Yutaka Otani, Ninomi Aosuma, Yuki Kamiyama, Kokoro Oga, Masuoka Daisuke
Official Facebook: https://www.facebook.com/AstralChronicles.Global
Official Website: https://www.ubeejoy.com/ac/home/
CS email: ubeejoycs@gmail.com
**System requirement:Android 4.4+**Ram:2G RAM (best performance)
Privacy police: https://www.ubeejoy.com/en/privacy
Terms & conditions: https://www.ubeejoy.com/en/terms
로딩중