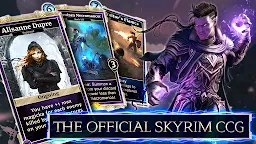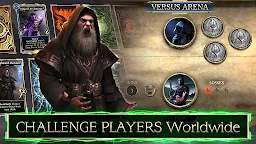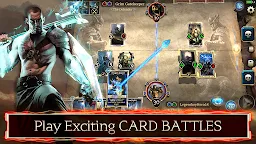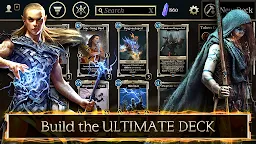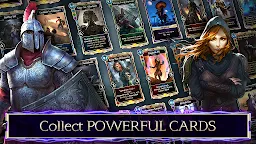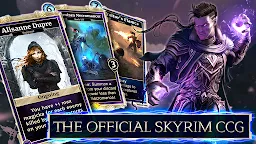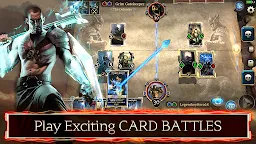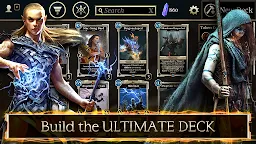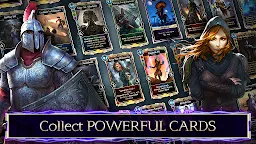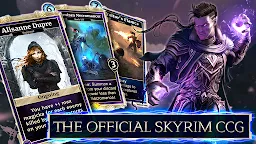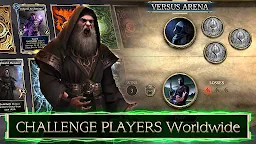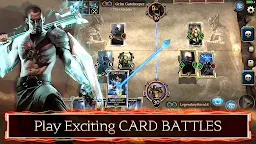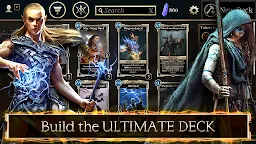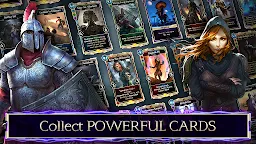 The Elder Scrolls Legends
[해당 게임은 서비스를 종료하였습니다.]
[The game server has shut down on 31 Dec 2020. ]

The Elder Scrolls: Legends – Houses of Morrowind is now live!
Journey into the strange and unfamiliar lands of Vvardenfell and collect more than 140 new cards that capture the essence of The Elder Scrolls III: Morrowind and its Elder Scrolls: Online prequel.
Introducing Three-Attribute Decks
Take up arms and battle beneath the banners of one of the five Houses of Morrowind to unlock powerful new three-attribute decks. To create a three-attribute deck, simply add one of the many new three-attribute cards to a new or existing deck.
5 New Mechanics
Houses of Morrowind introduces 5 brand new mechanics to master: Plot, Exalt, Rally, Betray, and Dagoth cards.
The Elder Scrolls®: Legends™ - Heroes of Skyrim
"The first real challenge to the CCG throne." - Shacknews
Built for skill, not chance, The Elder Scrolls®: Legends™ - Heroes of Skyrim is a strategy card game based on the world and lore of the award-winning Elder Scrolls series.
Enter the world of Skyrim, full of formidable dragons and fan-favorite characters and heroes. Play for hours or minutes across many card battle game modes that are easy to learn but challenging to master. Battle against opponents in challenging card games, and examine the arena to come up with a strategy that will end in your victory.
Enjoy card collecting combined with intense multiplayer PVP card games. Collect cards and level up your existing deck heroes to take on even more challenging opponents. Can you survive the world of Skyrim?
The Elder Scrolls®: Legends™ - Heroes of Skyrim Features:
PLAY RPG CARD GAMES ON YOUR OWN
- Strategy card games – Learn the best strategy for winning card battles in Story Mode.
- Earn legendary heroes, Legends cards, decks, and packs when you play solo.
- Draft battle decks from scratch and battle a series of computer opponents.
ONLINE PVP AGAINST OTHER PLAYERS
- Multiplayer games let you test your deck strength against friends.
- Online PVP games – Challenge online opponents in ranked play.
- Draft battle decks from scratch and battle other players who have done the same.
PICK YOUR CARD BATTLES
- Expand strategy options with Legends gameplay, which features a divided battlefield with "lanes."
- Card strategy – Carefully place your cards in either lane to attack your opponent and their cards.
- Strategy is key – Make sure you're prepared for whatever your opponent plays next.
LEVEL UP BATTLE CARDS
- Crafted battle – Collect cards and tailor your deck to your play style.
- Deck heroes and other cards can be upgraded by winning games against decks that contain the same card.
- Level up battle cards to improve your decks and give yourself more flexibility.
MONTHLY CCG UPDATES
- Why play a strategy card game if It doesn't change? Add a new card to your deck every month.
- Trading card game constant updates to keep the meta-game fresh and interesting keeps the game fresh and competitive.
Explore the world of Skyrim and battle challenging opponents in intense card games. Discover the best card game strategy, and add legendary heroes and fan-favorite characters to your battle decks in The Elder Scrolls®: Legends™ - Heroes of Skyrim.
Download now and play multiplayer card games.
로딩중