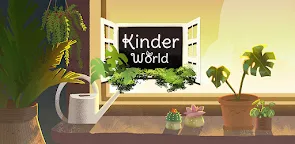 Kinder World: Houseplant Game
개발자: Lumi Studios
Kinder World: Houseplant Game is a casual game developed by Lumi Studios.

Kinder World is your portal to a realm of healing, kindness and houseplants. Dive into a world of cozy mindfulness, supported by wholesome animal characters and unique, colourful houseplants. Complete daily self care activities to build your empathy and find moments of joy throughout your day.
This game is currently in active development - thank you for testing!
REVIEWS
"I was lucky enough to play the early version and fell in love with it instantly. I love my plants so it's nice to take care of more within the game. The graphics are minimalistic and definitely is a cozy game! I can't wait to see more in the future!" - PlantDad
"The app feels more human and a lot less tech. The quotes and feelings seem genuine and relatable. At first, I thought this game was kinda stupid, just watering twice a day and that's it, but it's nice to have such low pressure in dedication to an app. Sometimes I check in just to fill out a joy card. It's beautiful simplicity. Can't bring myself to delete it." - Karen - Nc
BUILD MINDFUL HABITS WITHOUT THE WORK
Kinder World is designed for short, twice-daily play sessions. We felt that traditional self care apps quickly feel like a chore, so it's our mission to make mental health activities low-pressure and gentle. Check in with Kinder World in the morning and the evening to water your houseplant and complete simple self care activities.
While playing Kinder World isn't a replacement for therapy, our gameplay is designed as a good concrete practice alongside professional support, and you can tailor your experience for where you're at personally. In future, we plan to add content and activities focused on stretching, relaxation skills, confidence and more.
Current kindness exercises include:
Emotional Naming: Fill a sand-jar with your daily emotions to build self-empathy and stay in touch with your feelings.
Daily Gratitude: Answer short gratitude prompts to help you savour positive experiences and shift focus from difficult emotions.
GROW EVER-CHANGING HOUSEPLANTS
Encourage your plant's growth with self care exercises, and unlock new plants as you build healthy habits. In Kinder World, your plants never die, so don't stress if you miss a session or don't have the energy for a mental health activity. You can water your plants without completing an activity if you just don't have the energy.
All plants are procedurally generated, meaning each plant you grow will look different from the last one!
MEET CREATURES ON THEIR OWN MINDFULNESS JOURNEYS
Meet the inhabitants of Kinder World, like Samy the Dog and Quilliam the Hedgehog. These adorable animal friends will cheer you along your wellbeing journey, and keep in touch with short letters to brighten your day.
CREATE YOUR OWN COZY SAFE SPACE
Decorate a range of themed rooms in your Kinder World house and create personalised, comfy spaces, like a cozy sitting room, an inspirational crafts room, a witch's atelier or a tranquil Japanese-style library. Design wholesome spaces where you can feel safe and calm.
A KINDER WORLD, A KINDER COMMUNITY
Receive uplifting messages from real members of the community. Be surprised by artist-designed plant pot gifts from kind strangers, or send plant pots to random strangers yourself to put a smile on someone's face.
RESEARCH-BASED WELLNESS
We work with our very own Wellness Researcher, Dr. Hannah Gunderman, to ensure that our approach develops empathy for the self and others in measurable ways. The game design of Kinder World is rooted in mindfulness and wellbeing research, which is translated into activities that are scientifically proven to support your wellbeing journey.
JOIN THE KINDER WORLD COMMUNITY
Find @kinderworldgame on Tik Tok and Instagram, or join the community of like-minded kind folks on Discord:
https://discord.gg/t2CxcCUx
로딩중