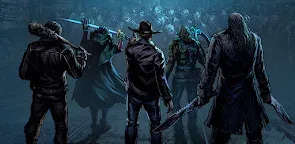 The Walking Dead: All-Stars
The Walking Dead: All-Stars
The Walking Dead: All-Stars is zombie themed RPG developed by Com2uS Holdings Corporation. This game is an officially licensed TWD game. "Respond if you are still out there!" TWD: All Stars!
Battle for survival,
TWD: All Stars invite the survivors..
▶Game Introduction◀
『World』
One of the most famous zombie apocalypse world, "The Walking Dead!"
Survive against threats of walkers and other groups of survivors!
『Character』
Original comics right in your hand!
Visually improved artworks style delivers TWD: All Star's unique vibe!
Find both original comic characters & game original characters that can only be found in TWD: All Stars!
『Content』
Idle gameplay for effortless progression
"Defensive Battle" against enemies attacking settlement Asyl
Participate in 'Supply Run' and 'Dispatch' to obtain supplies!
Compete against other survivors in "Borderlands!"
"Joint Battle" available with others in your "Community!"
The game is available in 한국어, English, 日本語, 中文简体, 中文繁體, Deutsch, Français, Español.
** The Walking Dead: All-Stars is free to play, but offers in-app purchases. You can disable in-app purchases through your device's settings.
** Minimum Requirements: Galaxy S5 (OS 5.1.1) / 3GB RAM
***
Smartphone App Access Permissions
▶ Permission Guidelines
App will request permissions in order to provide certain services:
[Required Permissions]
- None
[Optional Permissions]
- None
▶Revoking Permissions
[OS 6.0 or Later]
Settings > Apps > Select App > Permissions > Grant/Revoke Permissions
[Versions Prior to OS 6.0]
- Upgrading to 6.0 or higher will allow you to set permissions manually.
* The Walking Dead: All-Stars Community: twdallstars-community.com2us.com
* Com2uS Holdings Official Website: https://www.withhive.com
* For any questions, please contact us at: https://m.withhive.com/customer/inquire
로딩중