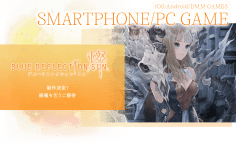 Blue Reflection Sun
Blue Reflection Sun
개발자: DMM GAMES
Blue Reflection Sun is a sequel video game scheduled to be published by DMM Games based on its previous RPG Blue Reflection developed by Gust and published by Koei Tecmo Games in 2017.
Koei Tecmo Games announced "Blue Reflection Project" on AnimeJapan at the end of March 2021. The project consists of an adapted anime series and two video games Blue Reflection Sun and Blue Reflection Tie. The former is designed for PC and mobile platforms with Kishida Mer, the original artist, working on character designs.
The release date of the game is yet to be confirmed nor are the details of the game itself. The only information is that all three works of the project will have independent storylines, characters, and backgrounds. Each of them will express the world of Blue Reflection differently.
To know more details or follow the latest news, please check the official website and Twitter.
Official Website:
https://bluereflection-portal.com/
Official Twitter:
https://twitter.com/BR_general_info
---자료제공:게임 개발자---
Gust's "Blue Reflection" franchise has announced new game "Blue Reflection Sun" for PC/ mobile at AnimeJapan 2021.
로딩중