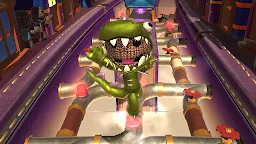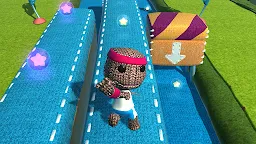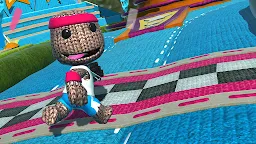 Ultimate Sackboy
Ultimate Sackboy
開発者: Exient
Ultimate Sackboy is a platform runner game developed by Exient, adapted from the LittleBigPlanet series. In this game, players can control the protagonist of the series, Sackboy to dash, slide, and jump to beat challenging levels with different kinds of obstacles.

✨Let your imagination run wild in Sackboy's ultimate adventure!✨
🏆
PLAY AS ICONIC HERO SACKBOY
as he takes on the legendary Ultimate Games, the most prestigious – and craziest – obstacle racing tournament in all of Craftworld! Can you surpass your rival, win the race, get cool prizes all while lookin' real stylish?! Or will you run into a wall and get totally wiped out?!
🏆
SWIPE TO DASH, SLIDE, JUMP
in this super-competitive runner challenge! Use precise timing, fast reactions, and a little smarts to think ahead and beat all challengers! Can you collect the most Orbs to win? As you progress, you will unlock more tiers – allowing Sackboy to explore a variety of beautifully loomed tracks, from the vibrantly stitched race tracks to the paper-crafted library halls!
🏆
DUEL IT OUT
in the Daily Duel every day for the ultimate rewards! Take on your rivals in head-to-head contests and tournaments. Compete for scores for a chance of winning gold, prizes – or even their outfits!
🏆
DRESS TO IMPRESS
with hundreds of clothing varieties to collect, unlock, upgrade and check out! The more you upgrade, the higher your score, so if you're taking part, you better look the part! With more clothing options being added all the time, you will never run out of cool costumes to collect – and you never know, sometimes a pair of cool shades is all it takes between getting that shiny winner's trophy or ending up crying on the floor!
-
From the makers of
Lemmings - Puzzle Adventure
out now on all devices! Downloaded over 8 million times. Start rescuing the little critters now!
View our Privacy Policy at: https://www.exientpublishing.com/privacy-policy/
ロード中