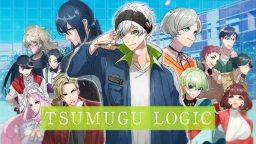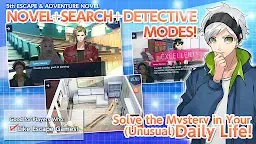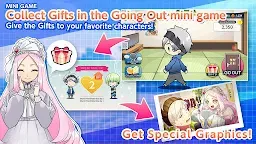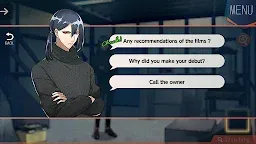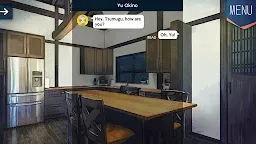 TSUMUGU LOGIC | English
TSUMUGU LOGIC
開発者: ESC-APE by SEEC
☞ 他のバージョン: 紡ロジック
TSUMUGU LOGIC is a hybrid of escape game and visual novel, developed by SEEC. This is the fifth game of the same genre developed by SEEC. In this game, players need to read the story carefully and solve different mysteries. Apart form that, there will also be minigames for players to have a bit of fun.

[Solve the Mystery, Struggle in Youth.]
◆ Story ◆
Tsumugu Taki, a protagonist of the story, has moved to Nagoya for university.
He didn't feel like working so he decided to go to university without any ambition.
However, mysterious cases were waiting for him in his new daily life.
With an intelligent yet ironic guy, Sosei Morotomiya
and Kotoko Yotsutsuji who Tsumugu met again as if it were destiny,
Tsumugu solves the mysteries in his unusual daily life in an easy-going way.
He has new encounters and farewells forever in the story.
When he runs out of unlimited possibilities, what is left in his hand?
◆ Features ◆
- The app is an Escape & Adventure Novel game with features of detective, mystery as well as puzzle solving games.
To continue the stories, you need to solve all the mysteries by talking to characters, searching for items and evidence as well as interrogating suspects.
- The volume of the scenario is more than ten times other Escape games. Basically you can play free of charge (in-app purchase).
- You can get beautiful graphics with a full screen. There is also a mini game to have a fun time with various main characters.
- Some part of the stories includes voice acting.
◆ Good for Players Who ◆
- like detective stories, reasoning, interrogating, questioning, searching for items and evidence, puzzle solving.
- like playing free quiz and puzzle game apps.
- want to enjoy long mystery stories in escape games.
- like detective games, escape games, mystery-solving games.
- like novel games, light and casual novels, Otome games.
- like playing novel games with voice acting.
- like playing the game free of charge
◆ Voice Actors & Actresses ◆
Junya Enoki / Kotaro Nishiyama / Minami Takahashi / Shunsuke Takeuchi / Reina Ueda / Asami Takeuchi / Shunichi Toki
Maya Yoshioka / Yoshitaka Yamaya / Yuka Otsubo / Manabu Horigome / Daiki Abe / Masamune Miyata / Takahide Ishii
and more
◆ Opening Song ◆
'Blooming!'
Song: Rico Sasaki
Lyrics: hotaru
Composition / Arrangement: Yusuke Shirato
◇◆ Special Gifts for the English App Release! ◆◇
To celebrate the English version app release together,
all the players will receive the following special gifts!
- 100 Jewels
- 2,000 Coins
- 3 Dash Jellies
*Jewels are required to continue the stories.
◆ Game Information ◆
Title: TSUMUGU LOGIC
Category: Escape & Adventure Novel
Devices: Android, iOS
Price: Basically free of charge (In-app payments)
Developer: SEEC Inc.
Author / Scenario: Benoma Ray
Official Site: (JP) https://se-ec.co.jp/appli/tsumugulogic/
Official Twitter: (JP) @tsumugulogic (EN) @SeecInc_EN
*Please note that the app might be unstable or might not work well
depending on an internet connection or situations.
▼Others
- If you delete the cache or the data or uninstall the app, all the data in the app including paid items and the progress of the game is also deleted.
- We do not recover the data for the app. Please manage your data and the app with your own responsibility.
- We do not repay for the items you have purchased. Please note it in advance.
- We do not recommend tablets to play the game. In some devices, the app might not work properly.
- Please play the game with a good internet connection.
 (*Otherwise, the data might be destroyed.)
[Regarding Fanfiction and Video Distribution]
(JP) https://se-ec.co.jp/appli/tsumugulogic/guideline/
[Terms of Use]
(JP) https://se-ec.co.jp/smartphone_app/RulesOnUse.html
ロード中