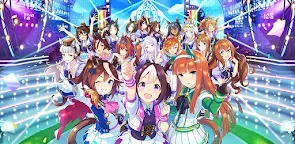 Uma Musume Pretty Derby | Jepang
Uma Musume: Pretty Derby
Developer: Cygames, Inc.
☞ Other Version(s): China Tradisional | Korean
Uma Musume Pretty Derby adalah game simulasi yang dirilis oleh Cygames untuk platform Android, iOS, dan PC (DMM GAMES). Saat ini, Game ini hanya tersedia dalam bahasa Jepang. Selain game Uma Musume Pretty Derby, Uma Musume juga memiliki serial anime, manga, dan lain sebagainya.
Sebagian besar karakter dalam permainan menggunakan nama-nama dari kuda balap dalam kehidupan nyata sebagai prototipe mereka. Pemain akan bertindak seperti pelatih pemula untuk membantu Uma Musume memenangkan turnamen Twinkle Series dan mewujudkan impian mereka.
Setelah pemain memilih karakter mereka, pemain perlu melatih mereka berdasarkan atribut yang dimiliki termasuk kecepatan, stamina, kekuatan, temperamen, kecerdasan, dll. ( Beberapa atribut dapat diwarisi oleh karakter baru). Selama pelatihan, karakter yang kamu latih mungkin menemukan berbagai macam kendala dan masalah. Tugasmu sebagai pelatih adalah untuk berkomunikasi dan mencari solusi dengan mereka.
Selain itu, game ini mengadakan berbagai event sesuai dengan waktu dan musim yang sesungguhnya.
1536201
My highbreed Maruzen lose debut race and got last place
...
Tazuna say my Maruzen don't have enough speed
...
But other UmaMusu not even have more than 100 stat
...
Well no luck...

1495159
Unique Skill
I'll Show You White Lightning!
In the second half of the race on a straight, if you're in a good position or aiming for one from the back of the pack, you will start running like a lightning bolt
Innate skills

Hold Your Tail High
Slightly increase speed if many skills were activated during the Middle Leg

Inazuma Step
Medium Become lightly harder to box in if behind in Middle Leg

awaken
Level 1
Position Swiper
Betweener Slightly increases speed during the Middle Leg
Awakening skills
Level 2
Favorite Place
Leader Become slightly harder to tire during the Middle Leg
Level 3 (Rare)
Quick and Decisive
Betweener : Increases speed during the Middle Leg
Level 4
Straight Shot
Chaser : Slightly increases acceleration on the straight in the Last Spurt
Level 5 (Rare)
Tail of Victory
If you activate a lot of skills in the Middle Leg, your speed will increase.


Special events exclusive for her

Win Takarazuka Kinen, Tenno Sho Autumn, Japan C, Arima Kinen at the senior year
Reward
Speed ​​+15
Gut +10
Tips for " hold your tail high" Lv + 2

Akindo Guts! (trigger randomly)
【Great success】
Acquired "cut pieces"
Wisdom +15
【success】
Speed ​​+20
Wisdom +10
[Failure]
Speed ​​+10
Wisdom +5

Overall she's solid
the third possible Chaser type in the game and thats preety scary due to how chaser often dodge debuff
Gold ship Stat training stat (20% stam 10% power)
and her skill proc in the middle just like goldship, expect theres a condition where you want her to chase for the 6th slot to get the Powerful unique

the awakening have different positions which baidcly meant you only have 1 rare skill that you can apply to this horse is which basically limit the rare skill potential
but pair her with hayakawa make hold your ttail high Level 5 hint without hitting stuff like marvelous sunday hint
which is hilarious

building her gonna be the tricky tho
if you want the generic skills you go make her as a betweener (more likely to trigger her unique)
and if you want a full burst middle spam you make her a chaser (potentially stronger than goldship if it work)

Loading...