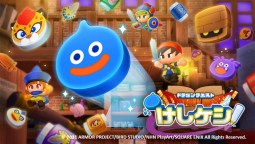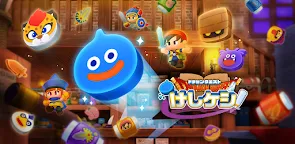 Dragon Quest Keshi Keshi
Developer: SQUARE ENIX Co.,Ltd.
More from the same developer More

A Certain Magical Index: Imaginary Fest | Jepang

Fullmetal Alchemist Mobile | Jepang

Engage Kill

WAR OF THE VISIONS FFBE | Japanese
Dragon Quest Keshi Keshi adalah permainan puzzle yang dikembangkan oleh Square Enix dan NHN PlayArt. Game ini adalah permainan teka-teki seluler pertama dari seri RPG Dragon Quest yang sangat populer dan diciptakan oleh Yuji Horii. Game ini tersedia di platform Android dan iOS dengan mendukung Bahasa Jepang. Setiap satu perangkat dapat menyimpan hingga tiga slot data sehingga pemain dapat bermain dengan teman dan keluarga mereka.
Dalam game ini, karakter, monster, dan item yang sudah dikenal seperti Slime dalam seri Dragon Quest akan diubah menjadi "Dora Eraser" yang menggemaskan. Di setiap tahap, pemain harus mencocokkan tiga atau lebih eraser dari jenis yang sama secara vertikal atau horizontal demi melepaskan kekuatan mereka untuk menghapus coretan di sebelah penghapus yang cocok. Kekuatan khusus seperti ledakan akan dipicu ketika beberapa eraser dengan kelebihan tertentu dipasangkan untuk membantu mengalahkan level dengan lebih mudah dan melanjutkan petualangan di dunia Dragon Quest Keshi Keshi.
Koleksi eraser dalam game adalah salah satu fitur penting dari permainan, karena pemain dapat mengumpulkan banyak penghapus yang lucu dan dirancang dengan baik untuk membantu pemain dalam menyelesaikan teka-teki. Setiap eraser memiliki tipe dan model statistik berbeda yang menentukan seberapa kuat eraser tersebut. Pemain harus berpikir strategis tentang unit eraser yang akan digunakan pada setiap level untuk memaksimalkan potensi unit tersebut dalam hal kombinasi keterampilan dan tipe bonus. Setelah menyelesaikan level, eraser yang digunakan akan mendapatkan EXP untuk naik level dan menjadi lebih kuat. Mengembangkan dan membangun tim bersama eraser yang menggemaskan ini akan menjadi pengalaman yang sangat menarik!
Loading...