Monster Strike | Traditional Chinese
Monster Strike
Developer: XFLAG, Inc.
☞ Other Version(s): Korean | English | Japanese
Monster Strike
is a game where you can slingshot monsters and watch as they bounce around like pinballs, destroying enemies in their wake. Play with up to three other friends in this co-op action RPG. Become a master and collect over 1,000 unique and powerful monsters — staking your claim as the best Striker around!
Monster Strike is completely free to download and play, though some in-game items can be bought. Get many of the strongest monsters by completing quests. You can disable payments by turning off in-app purchases through your device's settings.
803113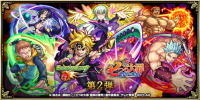 "Monster Strike" confirms a second collaboration with TV anime "The Seven Deadly Sins: Dragon's Judgement" starting from 14th November.
https://news.qoo-app.com/en/post/61632

Loading...