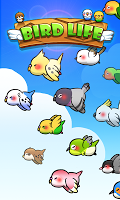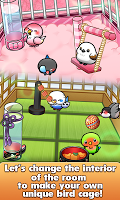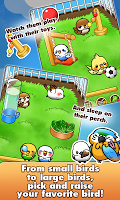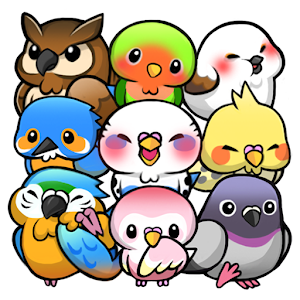 Bird Life -vie d'oiseau-
Bird Life
Développeur : Cross Field Inc.
Des perruches, des paddas de Java, des perroquets et des hiboux, et même des oiseaux plus grands ! Élevons-les lentement et régulièrement.

Une vie d'oiseau est une application gratuite d'élevage d'oiseaux qui vous permet de passer un moment apaisant avec une grande variété d'oiseaux de charme.

Nourrissez-les, caressez-les et jouez avec eux en utilisant un jouet. Vous pouvez également créer votre propre et unique pièce.

Il y a tellement de façons d'élever votre oiseau favori.

Prenez bien soin de votre oiseau chaque jour pour voir ses nombreux visages.


■How to play・How to raise the bird

*The way to take care bird
・You could give food to it or touch it cute face.
・Press the bird longly and you could move the bird.You also can change your furniture or decoration.
・Double click screen, bird will come to you!
・If you touch bird or give it food many times,EXP could be accumulated.
・If bird come near to water feeder,will start to drink water cutely!
・Use coin to add the mount of bird, also can accumulate EXP easily.
・Thera still have other way to save coins, let's find it out!

*The way to get Rainbow wing
Just take care you bird,there will give Rainbow wing when you level up.
And take the bird to puzzle game, there also will give you Rainbow wing when you level up.

*How to add new bird
Please click the bird which on the top of screen.Then you can exchage or add new bird.
If you want to promote the stage level, you also can exchange by Rainbow wing.

*How to change the decoration of house
・You can save coins and exchange furniture by coins in shop.
・After you bought new furniture or decoration, you can decorate it directly.

*Puzzle game
It is very easy to play, just array three blocks with the same color vertically or Horizonally.
Then you could get coin or Rainbow wing or birds.

*About event
According to your level, official side prepares many kinds of event.
Let's get the gorgeous reward and take card our bird!!

*About start page
After you finish tutorial, you can choose home or puzzle mode.
You can pass you life with bird and free to decorate the house .

*If you cannot open the app, please restart your device and close application first.
*When you send mail to us, please let us know which device you are using and your mail address.
Chargement...