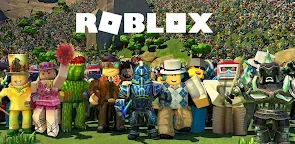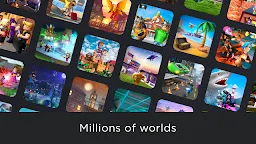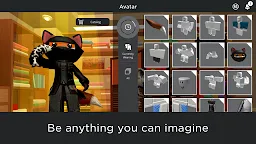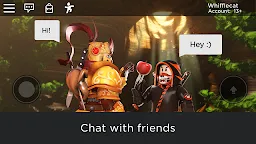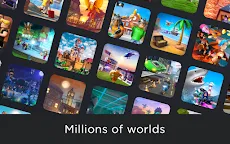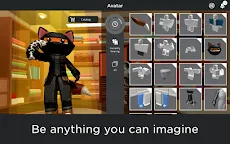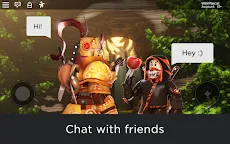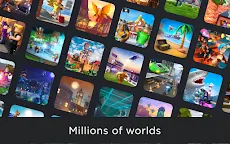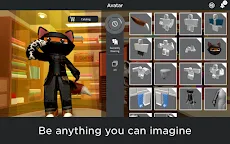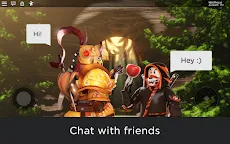 ROBLOX
ROBLOX
Développeur : ROBLOX Corporation
Roblox is an online gaming platform developed by ROBLOX Corporation that provides a considerable number of games created by gamers around the world. Exploring in Roblox is genuinely like exploring another world, where you can do anything you can imagine virtually due to the extremely diverse collection of games in the Roblox community. All you need to do is set up an account for free, then you can dive into this immense universe full of fun and creative games.
All the games featured in Roblox are created by the users. By using your unlimited creativity and enthusiasm, you can create and become anything you desire in this virtual universe. You can build a huge amusement park where people can have a good time together, you can generate a battlefield where exciting battles can happen in a blink of an eye, or you can create a sports arena where people can team up and compete against each other for the victory. There is almost nothing you can't achieve in ROBLOX.
The fun of ROBLOX games escalates when players are exploring and playing with friends. ROBLOX allows users to customize their avatars by wearing different items of clothing and equipment such as hats, shirts and more. Every user can design their avatars with different styles and show them off to their buddies. Moreover, an in-game chat function is available for easy and convenient communication. Both private messages and group chat are there to maximize the jokes and banter among friends. You would not want to miss out on these features.
Apart from being incredibly fun, ROBLOX is also very well-designed in terms of connecting players from different platforms as it operates in over 10 languages. PC, smartphones, tablets, Xbox One and even VR devices are places where you can enjoy ROBLOX. Also, despite its free-to-play nature, ROBLOX also has a virtual currency in-game called 'Robux' and an optional "Builders Club" membership that can be bought using real money. With that, players can unlock more features on this already amazing platform.
All in all, if you want to have a good time with your friends or just play some nice games in general, ROBLOX will be a nice platform for you to try out and explore.
---Below is the information provided by the developer---
Roblox is the ultimate virtual universe that lets you play, create, and be anything you can imagine. Join millions of players and experience a diverse collection of games created by a global community! Already have an account? Log in with your existing Roblox account and play now!



THOUSANDS OF USER-GENERATED GAMES

Everything in Roblox is user-generated. Players can create the ultimate theme park, compete as a professional race car driver, star in a fashion show, become a superhero, or simply build a dream home and hang out with friends. In this safe and moderated environment, imagination rules supreme.

CROSS-PLATFORM MULTIPLAYER GAMING

Hang out with your friends and millions of other players across computers, smartphones, tablets, Xbox One, and VR in an infinite variety of games and experiences!

CUSTOMIZABLE AVATARS

Take on a new persona and dress up your avatar with an unlimited variety of hats, shirts, faces, gear, and much, much more!

CHAT WITH FRIENDS

Connect with your friends online using in-game chat features, private messages, and groups!

FREE-TO-PLAY

Roblox is free to play, but players can also use real money to purchase Robux (our virtual currency on Roblox) to spend on in-game upgrades or accessories for their avatar. Players can also purchase an optional "Builders Club" membership, which provides extra privileges and a daily Robux stipend (tap the "More" tab at the bottom of the screen in the app, and then "Builders Club" to learn more).

CREATE YOUR OWN GAMES FOR FREE: https://www.roblox.com/develop
SUPPORT: https://en.help.roblox.com/hc/en-us
CONTACT: https://corp.roblox.com/contact/
PRIVACY POLICY: https://www.roblox.com/info/privacy
PARENT'S GUIDE: https://corp.roblox.com/parents/

PLEASE NOTE: A network connection is required to play. Roblox games work best over Wi-Fi.
555239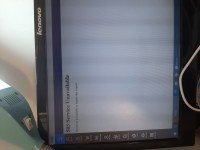 help what is going on with roblox everytime i refresh it becomes like this
Chargement...