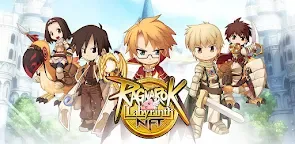 Ragnarok Labyrinth NFT
Développeur : Gravity Game Link
Ragnarok Labyrinth NFT
is a blockchain RPG developed by Gravity Game Link. The game is the South East Asian and NFT version of
Ragnarok: Labyrinth
. In this game, players can enjoy the fun of Ragnarok-Online-style RPG as well as the play-to-earn elements that have been added.
Pre-Download is available wow! Player can install the game in advance, while the Game Server will be opened on 13 April 2022 - 07.00 AM GMT+7
Ragnarok Labyrinth NFT is the first official Ragnarok Online IP with Play To Earn and NFT elements, which will be launched in the South-East Asia market soon, operated by Gravity Game Link (GGL), an Indonesian branch of Gravity.
Ragnarok Labyrinth NFT is a 'Time-Effective' MMORPG mobile game genre, featuring maze dungeons which contains memorable stages and monsters from the Ragnarok Online world. Integrated with blockchain technology via ONBUFF COINS, which can be traded in a DeFi (Decentralized Finance) exchange, and further, Non-Fungible Tokens (NFT) that players can experience through game characters. Aim to not only provide a-maze-ing game experiences, but also to reward players digital financial assets which can be obtained with every minute of play.
Let's join the exciting adventure!
Ragnarok Labyrinth NFT Core Features :
• Auto-Play
Defeat MVP and Monsters with your fellow players through Autoplay. No manual grinding required!
• 'Sharevice'
An unique feature to enable users to grow characters by sharing them with other users.
• Labyrinth
A variety of innovative Maze Dungeons await, with increasingly complex and challenging patterns to acquire exquisite treasure
• Various Game Modes
There will be both PVP duels and Raids. Become the strongest and get rewards
• Community
Join a guild, chat with all the members and develop your guild to become the strongest one along with your friends
• Upgrade System
Refine various kind equipment, gears and cards, make your journey and challenges easier to overcome
• Auction House
Buy, trade and sell various goods among the players
Check our official Website and Community Platform for further information of Ragnarok Labyrinth NFT.
• WEBSITE = https://labyrinthnft.gnjoy.id/
• INSTAGRAM = https://www.instagram.com/gravity.gamelink/
• FACEBOOK = https://www.facebook.com/TheLabyrinthofRagnarok
• TWITTER = https://twitter.com/rolabyrinthnft
Chargement...