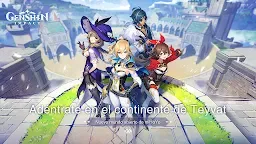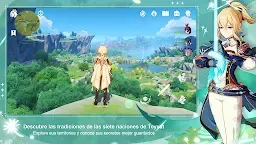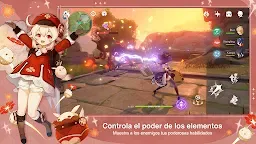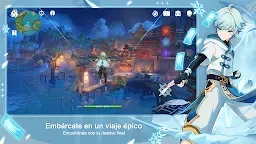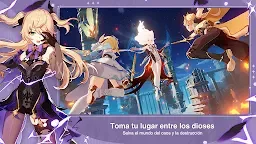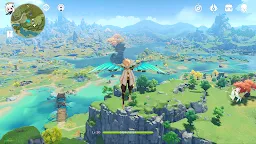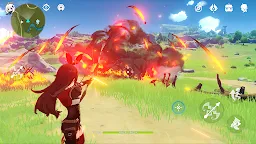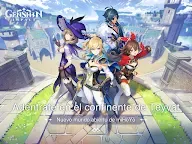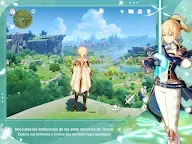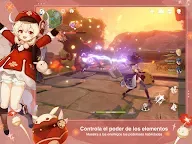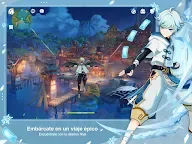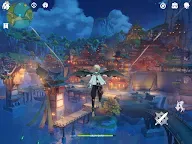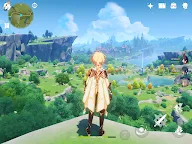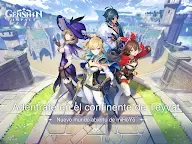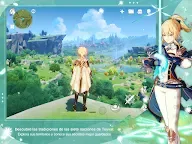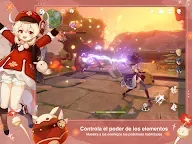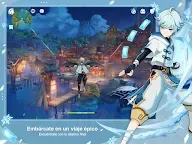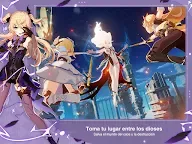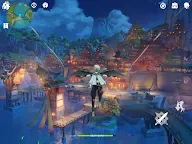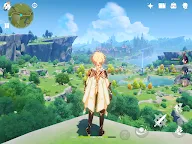 Genshin Impact
Genshin Impact
Desarrollador: miHoYo Limited
Más del mismo desarrollador Más

Honkai Impact 3rd | Global

Honkai Impact 3rd | Global
Genshin Impact es un juego de aventura desarrollado por miHoYo Limited.
Bienvenidos a Teyvat, un continente de mil maravillas donde incontables criaturas prosperan en armonía. Regido por siete Arcontes, este mundo es un lugar donde los siete elementos convergen...
A lo largo de los milenios, las civilizaciones nacieron y crearon sus propias naciones. Sin embargo, la humanidad seguía siendo impotente ante situaciones que estaban fuera de su control. Los deseos de algunos hombres eran tan fuertes que atraían los ojos de las deidades. Las deidades ofrecían a los elegidos un artefacto mágico conocido con el nombre de "Visión", que les permitiría dominar los elementos.
Los guardianes de las leyes celestiales de este mundo están desapareciendo, pero su salvador aún está por aparecer. Así, tomarás tu lugar entre los dioses para salvar estas tierras de la destrucción.
Bajo cielos lejanos, un niño y una niña se encuentran en medio de arenas movedizas. Son dos niños gemelos, y tú tomarás las riendas de la vida de uno de ellos.
Una deidad aparece delante de ustedes, les separa y te hace caer en un profundo sueño. Cuando despiertas, el mundo ya no es el mismo que conocías...
Genshin Impact es un juego de mundo abierto desarrollado por miHoYo. En el juego, descubrirás el fantástico mundo de Teyvat. Podrás visitar las siete diferentes naciones del continente y conocer a otros viajeros de todo el mundo para luchar juntos contra poderosos enemigos; además de descubrir los secretos que esconde y buscar a tu familiar perdido.
¡Explora libremente las diferentes regiones de Teyvat y deja que tu curiosidad te lleve a los rincones más místicos del continente!
[SOPORTE]
Si tienes cualquier problema, no dudes en ponerte en contacto con nuestro Servicio de Atención al Cliente: genshin_cs@mihoyo.com;:Genshin_cs@mihoyo.com
Página web oficial:
https://genshin.mihoyo.com/
Foro oficial:
https://forums.mihoyo.com/genshin/
Facebook:
https://www.facebook.com/Genshinimpact/
Instagram:
https://www.instagram.com/genshinimpact/
Twitter:
https://twitter.com/GenshinImpact
YouTube:
http://www.youtube.com/c/GenshinImpact
Discord:
https://discord.gg/genshinimpact
Reddit:
https://www.reddit.com/r/Genshin_Impact/
After idk how many months, today, I logged into Genshin Impact to try my luck with dah new banner.

Ever since this game came out, I wanted to play with Ayaka, but sadly, I couldn't...


I played for a few days, then when I was about to quit, I saw a youtube video that said that there were "leaks" about Ayaka being available in update 1.2 and that she would be given to every player who had finished the story that was available at the time and who had reached adventurer rank 30. Thanks to that video, I was motivated once again to play this game.

...But of course, those "leaks" were actually rumors made up by a bunch of nobodies. When the 1.2 update became available, I realised that the video was just a bunch of lies and that completely killed my motivation. Several days later, I stopped playing this game and I only came back from time to time to collect primogems(or w/e theyre called) from login bonus events and I also collected the ones that were in the mail. After a few months, I had around 21k gems.

So yeah... Today, Ayaka's banner was finally released, so I said to myself "Ill give this game one last chance. If I get Ayaka, Ill keep playing, but if I don't get her, this game will go directly in the trash can!
"

Finally, after all the freakin' updates were done, I spent my gems on Ayaka's banner. Results:
Cargando...