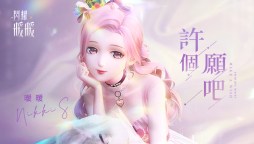 Shining Nikki | Chino Tradicional
Shining Nikki
Desarrollador: Papergames
Más del mismo desarrollador Más

Shining Nikki | Japonés

Love and Producer | Chino Simplificado
☞ Otra versión: Chino Simplificado | Japonés
Shining Nikki es un RPG fashion desarrollado por Paper Studio.

Shining Nikki es una secuela del Miracle Nikki de Paper Games. También un juego de moda en la naturaleza, supera el trabajo anterior con gráficos en 3D.
Características
• ¡Disfraces con textura detallada!
• ¡Lucha junto a los diseñadores en esta guerra de la moda!
• ¡Posa como una modelo!
• ¡Equípate con habilidades de modelado!
• ¡Exquisitas ilustraciones!
638595
#GAME_GACHA
I know they are dress up games and at first look, they look like a kids games but if you actually play the games it is more than just that. They both have a really good lore to it (one is when the protagonist ends up in a world and trys to break a curse and the other is her going back in time). For Shining Nikki, it's 3d so the visuals are really good and for Love Nikki it has more of an anime art style to it. The suits are really pretty, and majority of the time they are easy to get.

The issue with the games though (mostly Love Nikki) is that recently it's been less free to play friendly (not sure about Shining Nikki though), will still don't have older suits and Love Nikki likes to always give us collabs recently and collabs are really expensive.

This criticism is mostly to Love Nikki, not really Shining Nikki.
Cargando...