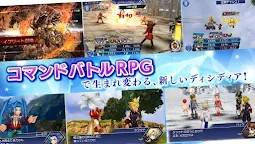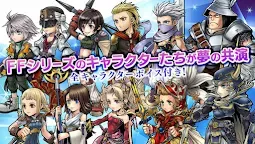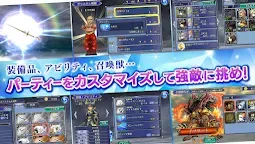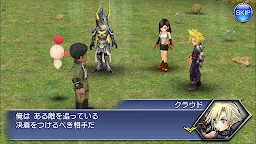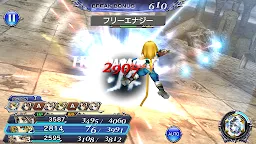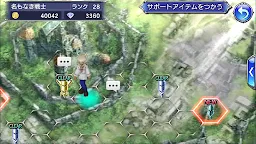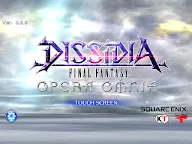 DISSIDIA FINAL FANTASY OPERA OMNIA | Japonés
DISSIDIA FINAL FANTASY OPERA OMNIA
Desarrollador: SQUARE ENIX Co.,Ltd.
☞ Otra versión: Inglés
DISSIDIA FINAL FANTASY OPERA OMNIA (DFFOO) es un spin-off móvil del título de PSP Dissidia Final Fantasy.
El juego gira en torno a personajes de las diferentes generaciones de títulos de Final Fantasy. A diferencia de la versión arcade del juego, la versión móvil presenta un sistema de combate por turnos.
● ¡Una colaboración soñada!
Los héroes y villanos legendarios de la serie FINAL FANTASY se unen en una historia convincente de poderosas deidades y un mundo en peligro. ¡Los fanáticos de la serie verán a sus personajes favoritos en una nueva aventura, y los recién llegados experimentarán la historia, el drama y el combate convincentes por los que la serie FINAL FANTASY es conocida!
● ¡Combate por turnos con un toque!
¡Participa en combates simples pero estratégicos por turnos! ¡El exclusivo sistema Bravery te reta a equilibrar la ofensiva con la defensa a medida que construyes tu Bravery y esperas el momento adecuado para atacar!
● ¡Monta tu fiesta!
Crea grupos de un elenco de docenas de héroes y villanos de FINAL FANTASY y prepáralos para la batalla con una variedad de equipos y habilidades. ¡Embárcate en un viaje junto a personajes queridos y encuentra rostros familiares, convocatorias y más en el camino!
● Juega con amigos!
¡Las misiones multijugador te permiten unir fuerzas con hasta otros dos jugadores para derrotar a enemigos poderosos y ganar fabulosas recompensas!
----------------------------------------
◆ Historia ◆
----------------------------------------
La oscuridad converge sobre nosotros, y el mundo se desmorona ante nuestros propios ojos ...
Lo que alguna vez fue un santuario para los cansados ​​ahora se ha convertido en un campo de batalla.
Hace mucho tiempo, las deidades Spiritus y Materia deformaron el tejido del tiempo y el espacio para crear un mundo nuevo, un mundo que poblaron con guerreros de otros reinos.
Estos hombres y mujeres se vieron obligados a luchar día y noche sin descanso, y la tensión de la batalla sin fin pronto se hizo demasiado grande.
Con cuerpos maltratados y espíritus destrozados, enviaron un grito de ayuda ...
556135
So all this info is from OpeOpeEX,which they renewed the program.
(If you don't like this kind of Translation and updates like this in here,then I will delete this and never updates my own translation again.)
https://youtu.be/btDW9gtG4-w
1.Krile LD Weapon(Sage Staff)
Ability:Tenchihokai(Heaven and Earth Destruction)
AOE Lightning Elemental attack
Inflict debuff Sabakinosenkoku(Judgement Declaration) to all enemies.When debuff expires,triggers AOE lightning attack.(similiar to trap)

2.They bring out FEOD Mission again from Autumn Campaign expect they added 2 new missions(15 and 20 perfect clears).So 61500 gems,5 relic of destroy and 100 nuggets(destroy) for those who haven't completed any of the mission during Autumn Campaign.But the reward from the Autumn Campaign cannot be reclaimed again.So 32000 gems,1 relic and 20 nuggets to those who already completed all 13 perfect clears during the Aitumn Campaign.

3.New gacha which is first-free multi pull features Ulti BT,Krile LD/EX,Relm EX and Aphmau EX

4.They added new panel mission for the campaign
However,the bar completion reward is not shown yet.So wait until this event release.
Translation from left to right

Up:Use Krile 15 times/Log in 8 days/Get arts passive
Middle:Clear 30 quests/Use support item/Clear 5 Daily Token Battle quests
Down:Use Relm 15 times/Use Aphmau 15 times/Level up Krile to Lv 80

5.As usual,WOI Carbuncle/Item,EXP,Gil boost in cycle quest and Gem sale,support item sale will be in this campaign too.
Cargando...