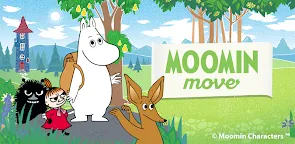 Moomin Move
Desarrollador: Tribered Oy
Moomin Move is an adventure game developed by Tribered Oy.

Awarded Best of Finland 2019!!
Discover hidden treasures all over the globe in the official location-based Moomin game. Moomin Move is a non-violent, relaxing, and active game. Explore the world as you complete quests and level up your character. Team up with your friends to complete unique quests for epic rewards. Collect pets and care for them. Compete in weekly worldwide challenges and unlock special rewards by being the greatest explorer in the valley!
Walk and enjoy outdoors with Moomin Move!
● ADVENTURE IN THE REAL WORLD
Travel in the real world to discover the secrets of the Moominvalley. Play anywhere where the road takes you!
● HELP THE MOOMINS AS YOU EXPLORE THE WORLD AROUND YOU
The folks of the Moominvalley need your help! Visit the Moomins and discover their quests and stories along the way.
● PLAY WITH YOUR FRIENDS AND FAMILY
Form alliances with your friends and compete with other teams globally.
Complete quests with your teammates for epic rewards. Or just enjoy casually with family.
● BUILD ON MAP FOR EVERYONE TO ENJOY
Build on the map and share the benefits with everyone, Moomin Move is about caring.
● COLLECT AND CARE FOR PETS
Collect, evolve, and play with pets you find around the world. Explore the world with them, and they will reward you with their help.
● LEVEL UP FOR EPIC REWARDS
Become stronger as you progress! Gear up your character and uncover the greatest of mysteries.
● COMPETE IN WEEKLY CHALLENGES
Participate in weekly global events and challenge others for special prizes.
● CUSTOMIZE YOUR CHARACTER
Express yourself with gorgeous outfits from the Moomin stories.
● DAILY EXCITING BONUSES
Magical rewards await as you enter the Moominvalley every single day.
● EXTEND YOUR GAMING EXPERIENCE IN OUR PARTNER LOCATIONS
Visit partner locations and discover intriguing stories and items.
● EMBARK ON A GREAT JOURNEY WITH YOUR FAVOURITE MOOMIN CHARACTERS
Meet and interact with dozens of unique characters.
Moomin Move is now integrated with Google Fit. With it, you can gain walking distance even with the game closed.
We update the game frequently and new features are added constantly.
This game is free-to-play.
Keep an eye on your surroundings!
© Moomin Characters ™
privacy policy:
http://www.moominmove.com/privacy
Cargando...