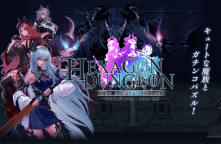 Hexagon Dungeon: The Arcana's Stone | Japanese
Hexagon Dungeon: The Arcana's Stone
Desarrollador: GCREST, Inc.
☞ Otra versión: 한국버전
Hexagon Dungeon: The Arcana's Stone is a combat RPG that combines puzzle elimination and turn-based gameplay. The game not only has an easy-to-use elimination method, but also adds a turn-based battle system that includes elements such as monster summoning and skill release, which adds strategy to the game. Players can collect and cultivate characters and monsters, and use the dungeons equipped with various facilities to obtain props, refine weapons, upgrade skill levels, and cultivate monsters to make their team stronger. In addition, the game is also equipped with a competitive system for players to compete against each other and challenge the limit.
Cargando...