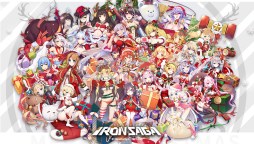 Iron Saga | Inglés
Iron Saga - Battle Mecha
Desarrollador: Gameduchy
☞ Otra versión: Chino Simplificado | Japonés | Chino Tradicional | Coreano
Iron Saga - Battle Mechas es un juego de anime desarrollado por Gameduchy.

¡Comandantes de ACE, reuníos! ¡Más de 500 Mechas y Pilotos, 100,000 formaciones posibles! ¡Diversos modos de juego, experiencias de batalla fluidas y deslumbrantes habilidades que te cautivarán sin falta! ¡Deja que tu sangre hierva de pasión y experimenta la diversión sin parar! ¡Date el gusto de jugar como nunca antes en Iron Saga!
- PROLOGO

El mundo estuvo una vez envuelto en un mar de llamas causado por doce mechas de batalla, más tarde llamados los "Grandes Dioses".
Avanzan los siglos rápidamente, y la guerra no es más que una leyenda olvidada por el tiempo: es un recuerdo que la humanidad apenas puede recordar. Pero entonces, la aparición de "
Battle Mechs"
repentinamente sacude al mundo entero. Fuerzas de todo tipo y tipo conspiran en las sombras, todos ansiosos por poner sus manos en esta tecnología que destruye el mundo, y reavivarán los fuegos de la guerra entre los ejércitos, mercenarios y cazadores de recompensas del mundo para obtenerla.
Mientras tanto, los pilotos de ACE de todo el mundo están luchando por reunirse. ¡La leyenda de Battle Mecha comienza ahora!
- CONTROLES ÚNICOS: TUS HABILIDADES IMPORTAN
Maniobra tus mechas en tiempo real con nuestro exclusivo sistema de batalla en tiempo real. ¡Controla el resultado de la batalla a tu alcance! Desde micro controles hasta disparos de armas, desde esquivar golpes letales hasta golpear la debilidad del enemigo en el momento adecuado: cada comando cuenta con el campo de batalla en constante cambio.
- MÁS DE 100,000 COMBINACIONES POSIBLES DE MECHA Y PILOTO
Personaliza tus propios equipos de más de 500 mechas y pilotos. ¡Elige entre increíbles Mechas humanoides y pilotos magníficamente dibujados para una configuración de batalla que es tuya y solo tuya!
- MÚLTIPLES MODOS DE JUEGO, CONFLICTOS DE CUERPO FRANCÉS
¿Modo historia completado? ¡Echa un vistazo a la arena, la simulación de combate, el paquete de cohetes, la carrera increíble, los juegos de cartas, los conflictos de cuerpos y mucho más! ¡Mantén tus blásters cerrados y cargados para los tiroteos sin parar!
- Más de 100 pilotos épicos con diversas pieles
Conozca a los más de 100 pilotos, todos únicos en personalidad y vestidos para matar. ¡Nuestro exclusivo sistema BGM garantiza una fiesta audiovisual cuando cambias las máscaras de piloto!
- EQUIPO DE PRODUCCIÓN PERFECTO, OST ICÓNICO Y GRÁFICOS
¡Más de 100 artistas distinguidos y compositores legendarios le traen una ráfaga de perfección artística para sus ojos y oídos!
Rebosante de amor por Iron Saga? ¡No dudes en seguirnos!
Sitio web oficial:
http://ironsaga.com/
Twitter:
https://twitter.com/IronsagaEN
Facebook:
https://www.facebook.com/Ironsaga.en
Discordia:
https://discord.gg/bVk4HyV
¡Nos encantaría saber de usted! Contáctanos en en@ironsaga.com
Juego ducado
Aprovecha el tiempo libre
484944
as a Veteran in JP, this game is friendly for F2P players HOWEVER PATIENCE IS NEEDED (especially for those who said "This game isn't F2P friendly"). SSS units are mostly for Late-Game playing where their skills and or Stats are necessary for taking on tougher enemies.

not to mention the parts, even a Fully Upgraded SSS units can be defeated by Underleved / Un-Synchronized Parts. higher rarity parts cost more coins for upgrading.

BUT the key points of playing the game is HOW YOU ADAPT. because sometimes one type of formation won't work on all enemies (like using melle based team to fight self destruct enemies is a bad move (unless you're lucky)).

Coin Merchant and Black Market can provide you fragments for your desired units, and more importantly..... allows you to TEST it (THIS IS THE IMPORTANT PART OF THE GAME).

You'll get Free Premium Banner 1 Pulls every 48 Hours and a Regular Pulls every 24 Hours. You'll get a Guaranteed S or above units every 10th Pulls on the Premium Banner(s) (there's more than 1 Premium Banner). Each Premium Pulls will give you a special alloy, you can exchange them for in the exchange section (this can be counted as a mercy system), including Badges (Sun for SSS Unit, Moon For Parts), Pet Sphere, Solar Medal (Top Tier SSS Units) make sure you don't regret it afterwards.

you can get along with a pilot in the bar, give him / her drinks, Meals every Lunch and Dinner, and Gifts to raise affinity, pilots with 60 and above Affinity can be recuirted. premium drinks (which costs diamonds) with higher cost provide more affinity. a 180 Diamond Cost Drink will provide 20 Affinity.

Arena can test your luck based on your formation, you can get Diamonds if you win here (and got lucky). however your opponent will be based on your level (arena Tier). your rank will reflect on how much your Welfare (Daily Diamond Salary) get.

Every Weekends there will be a brawl arena where you'll fight other players using 4 Random units from the game, each of their rarity may different, but you're given options to choose 1 among three provided units + 3 provided pilots + 5 provided parts + 3 provided Pets. REMEMBER TO READ the effects / Description / Pilot Profile because the provided things are based on luck.

if you need coins, you can go to Guessing Arena in Arcade section, not only providing you with coins, it's also testing you knowledge on the game units. The Rocket Test can provide EXP pills for your pilots, if you're good at Flappy Bird, you'll easily get plenty of EXP Pills (or even the top chart). Race is purely based on skills and your vehicle unit's speed, only top chart results that provide reward for you.

there's also 2 different Time Limited mini game in Arcade section. which is Crane Game and Guess the pilot.

Crane game, as it's name says is purely on your skills to get your prize, and luck to hit a jackpot which are :
1. +100 Affinity to a Pilot (free Recuirtment if you don't have him / her)
2. Diamonds
3. Free Premium Banner 1 Pull Tickets
4. Top Tier SSS units fragments (Possibly Solar Wings Units).
The Crane event has ended (on the date this note published), but will have a rerun with different Pilot Prize

Guess the pilot (Active on the date this note published) tests your knowledge of the in-game pilots, you just simply listen to a pilot's voice and guess whose voice was it. got it correctly and you'll get their Affection Gifts + other rewards, Faster Reaction gives better Rewards.

battle pass system wil provide rewards for the hard working players, upgrade if you want more.
some battle pass came along with a certain event.

speaking of events...... don't hesitate to spend your time to get it's rewards ONLY IF YOU REALLY WANT IT. you'll get plenty of stamina potios as you progress in the game, and only you knows when to spend it.

Personally Recommend Events :
1. Rhrine Event. Came along with a event exclusive Battle Pass. Works Hard and you'll get enough unit fragments for upgrading to max stars.

2. Shamash's Event (ongoing in JP Ver)

3. Zeorymer Collab Event
Cargando...