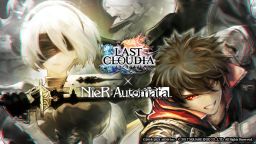 Last Cloudia | Global(English)
Last Cloudia
Developer: AIDIS
[Google Play checks for the download source for this game. As such, the game only runs properly when downloaded from Google Play. Due to this, QooApp will not provide a download link for this game.]
☞ Other Version(s): Korean | Traditional Chinese | Japanese
Last Cloudia Global(English) is a global mobile RPG game that features real-time battle. The game has an enormous worldview with magnificient plot that depicts human collaborating with monsters to save the world together, and it will be depicted in the style of a movie. There is a huge variety of units and they could be trained very freely.
-----------------------------------------------
The tale of the bond between Man and Beast.
A world where humans and beasts coexist, Granzelia.
The war started by the God of Ruin has passed and humanity is now living in peace. However, things start to change when the 12th Division of the Knight Brigade was given a mission to rescue a young woman.
Kyle, a young hot-blooded knight, and Rei, a fearless beast boarded a skyship of the Empire.
What they didn't know was...
Their choices would change the world.
_______________
・Movie-worthy BGM that adds to the magnificent story.
Not just the pixelated characters, but together with the camera work, unique 3D environments and the BGM, the story unfolds!
・Experience tension and the adrenaline-rush of battle!
Feel more connected through the exclusive real-time battles! Enjoy the super-flashy moves and the adrenaline rushes while going against the boss monsters!
・Fully customizable character growth stats!
Tired of those strong characters whose personalities don't actually appeal to you? With our character growth system, all characters in this game have equal opportunity to become the strongest of the party. It's just all up to you how you raise the stats on your favorites!
・Challenge other players in PVP with your strongest!
The arena has been prepared as the stage for PVP.
No two characters will have the same stats!
Customize your favorites to make your ultimate party and battle your way to the top!
・A luxurious cast of top-notch voice actors!
Of course, they're heard in battle, but you can also enjoy the characters coming to life through the home screen and when their abilities are enhanced!
The gorgeous cast will be announced!
_______________
The World where humans and beasts coexist – Granzeria.
The war started by the God of Destruction has passed and the people are now living in peace.
One day, Knight Squad 12th was given a mission to rescue a little girl.
Kyle, a young knight, and Ray, a fearless beast boarded a spacecraft of the Empire.
What they didn't know was this would be the beginning of the great war that shakes the World
[Official Facebook page]
https://www.facebook.com/lastcloudiaen/
[Official Twitter]
Account:
@lastcloudiaen
490560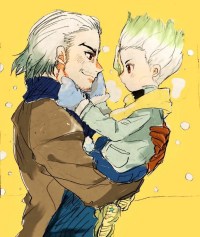 Ishigami Byakuya and Little Ishigami Senku from Dr. Stone
Loading...