Love 365: Find Your Story
Love 365: Find Your Story
Developer: Voltage, Inc.
Love 365 is your portal to otome romance!

250 gorgeous men are vying for your heart!
Which of them will sweep you off your feet? The choice is yours!
Have a new guy for every day of the week, or stick to just one man!
Find the perfect ikemen for you!

Over 4,000 episodes, stories, and situations!
Experience heart-melting first kisses,
passionate nights, or even explosive adventure!
Your life is about to get a whole lot more exciting!

Your Romance, Your Way!
557249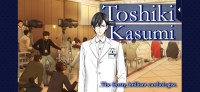 Name:Toshiki Kasumi
Loading...