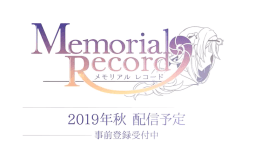 Memorial Record | Japanese
メモリアルレコード
Developer: CGS INTERNATIONAL INC.
[The Android server shut down on 28 Feb 2020.]
Memorial Record is an RPG with pinball elements developed by CGS INTERNATIONAL for mobile. The story of this game is set on an imaginary world called Memory world, where dreams of the reality world and people's memories are the essential resources that can generate power. In this game, players can team up with different characters with various personalities, and explore this magical world together.
Loading...