GUNDAM BATTLE GUNPLA WARFARE | English
GUNDAM BATTLE GUNPLA WARFARE
Developer: BANDAI NAMCO Entertainment Inc.
[This game is no longer in operation.]
☞ Other Version(s): Japanese | Asia
[The game server has been shut down on 5 JUN 2023. ]

GUNDAM BATTLE GUNPLA WARFARE is a GUNDAM BREAKER mobile game.
Get ready for the next battle! The first mobile Gundam game in North America is here to bring the best sci-fi anime mecha action to the palm of your hands! Gundam Battle: Gunpla Warfare is a 3D mecha action battle game based off the popular science fiction manga series. Build your custom Gundam plastic model (aka Gunpla) and take it into battle against other Gunpla builders to win the Gunpla Battle Tournament!
TAKE GUNPLA CUSTOMIZATION TO THE NEXT LEVEL
• Collect, mix, and match parts from over 25+ Gundam anime series to create the ultimate Gunpla
• Gather resources to upgrade parts by completing missions
• Personalize your Gunpla with a unique paint job
BECOME THE ULTIMATE GUNPLA BATTLE MASTER!
• Simple and intuitive mobile suit weapon-based combat
• Create unique mecha combos with Melee and Long-Range attacks
• Choose your Gunpla job license type, In-Fighter, Defender, or Supporter and much more!
EXPERIENCE AN ORIGINAL ANIME GUNDAM STORY
• Featuring EXCLUSIVE original characters and mobile suit Gunpla models
• Win tournaments and save the High School Gunpla club from shutting down!
• Create a squad to battle enemies in a wide variety of missions!
POWER UP WITH EX SKILLS FROM THE ANIME
• Finish mecha enemies with powerful EX Skills to win battles
• Relive iconic moments from the mobile suit anime series
• Limit burst to reduce cooldowns and reload faster EX skills
Do you have what it takes to build the ultimate Gunpla and battle your way to the top? Suit up and download Gundam Battle: Gunpla Warfare today!
SUPPORT:
https://bnfaq.channel.or.jp/contact/faq_list/1969
BANDAI NAMCO Entertainment Inc. Website:
http://bandainamcoent.co.jp/english/
By downloading or installing this app, you agree to the BANDAI NAMCO
Entertainment Terms of Service.
Terms of Service:
http://legal.bandainamcoent.co.jp/terms
Privacy Policy:
https://legal.bandainamcoent.co.jp/privacy/
Note:
This game contains some items available for in-app purchase that can enhance
gameplay and speed up your progress. In-app purchases can be disabled in your device settings, see
https://support.google.com/googleplay/answer/1626831?hl=en for more details.
©SOTSU・SUNRISE ©SOTSU・SUNRISE・MBS ©SOTSU・SUNRISE・TV TOKYO
This application is distributed under the official rights from the license holder.
Click here to the official website of Gundam Battle: Gunpla Warfare:
link
Click here to the official twitter of Gundam Battle: Gunpla Warfare:
link
495594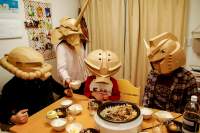 Netizen (Twitter@tomowo_PS2) has a very special skill of making Gundam helmets using paper boxes!
This is what it looks like when his family are having dinner tgt... How can they eat with the helmets on?!

476830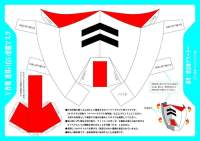 Netizen (Twitter @arakichi1969) made a paper mold for a gundam mask!

Loading...