Love Nikki | English
Love Nikki-Dress UP Queen
Developer: Elex
More from the same developer More

Mr Love: Dream Date | SEA

Mr Love: Queen's Choice | English

Game of Survival
☞ Other Version(s): Traditional Chinese | Japanese | Korean | SEA
Love Nikki / Miracle Nikki
is an English RPG.
ALSO FEATURES
Designed focusing on dressing up, with high image quality and interesting game-play. Bringing stereoscopic gaming experience to you.
Interesting story-line
The protagonist Nikki will embark on a magical journey across seven nations with different designing styles, and develop various stories with designers and stylists from these seven countries. With nearly 300,000 words'dialogues and descriptions, the plot is comparable to that of a novel!
Tens of thousands gorgeous outfits
Daily fashion, European style, antique beauty, dream-like fairy tales, neutral handsome, futuristic sci-fi…Almost all dressing styles are covered. Players can collect new outfits and enrich their own closets by completing in-game tasks every day. Supported by a fantastic artists' team, we consistently add new outfits on a monthly basis, making sure that the game keeps up with new trends.
Hundreds of different styles for free design
In our free design mode, players can freely style and design outfits, hairstyles, makeup, accessories and even change the backgrounds and layouts based on their own preferences.
Personally tailored
By collecting different colored dyes, players can freely change the color of their clothing. By collecting outfits patterns and decomposing redundant outfits, players can personally customize clothes and upgrade simple clothing into more elegant and fashionable outfits.
Designer dress up battle
Players can compete and battle against designers from all over the world under different dress up themes.
More than ten different 'abilities' can be used in dress up battles. Use your 'abilities' at the right moment to turn the tide!
Playing with your friends
Players can play the game with their Facebook friends. You can also make new friends by joining in various in-game activities.
Facebook Fan-page
Follow us - Love Nikki - on Facebook and you can regularly receive free game benefits. There're also many interesting online and offline activities on a daily basis waiting for your participation.
638595
#GAME_GACHA
I know they are dress up games and at first look, they look like a kids games but if you actually play the games it is more than just that. They both have a really good lore to it (one is when the protagonist ends up in a world and trys to break a curse and the other is her going back in time). For Shining Nikki, it's 3d so the visuals are really good and for Love Nikki it has more of an anime art style to it. The suits are really pretty, and majority of the time they are easy to get.

The issue with the games though (mostly Love Nikki) is that recently it's been less free to play friendly (not sure about Shining Nikki though), will still don't have older suits and Love Nikki likes to always give us collabs recently and collabs are really expensive.

This criticism is mostly to Love Nikki, not really Shining Nikki.
349007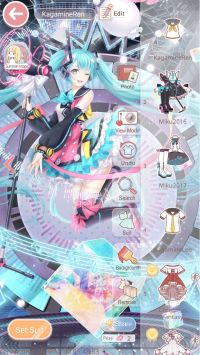 FINALLY GOT IT ALL!

Yes I've spend my christmas money for VIP I'm lvl 6 for it and it was totally worth, just for miku! Miku Expo will be in chicago and that is how much I love her and her friends! ヾ(*´∀ ˋ*)ノ
Loading...