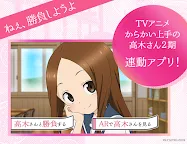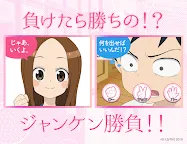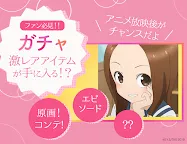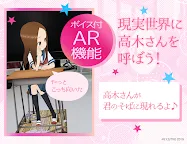 Karakai Shobu no Takagi-san
Developer: Jorudan Co.,Ltd.
[This game is no longer in operation.]
Karakai Shobu no Takagi-san
is an AR game originates from the Teasing Master Takagi-san series.
You can play with Takagi and let Takagi appear in the real world by the AR function ♪
Let's fight with Takagi!
The game with Takagi-san is a reversed rock-paper-scissors game!
Takagi-san will give you tips about what hand signs she will make through her dialogue so pay attention to what she has said during the game. You win by losing to Takagi-san intentionally. Let's make full use of the consecutive battles and aim for a complete victory!
[How to play]
Guess Takagi-san's hand sign and make the hand sign that will make you lose to her!
You win if you can keep losing to Takagi-san so be careful not to win her in the rock-paper-scissors game!
[Rule]
Takagi-san sometimes provides tips on how what hand sign she will choose before the start of battle so pay attention to it.
You can play up to 20 times in one match. The more you lose, the bigger the reward.
If you win Takagi-san accidentally, or you did not choose a hand sign, you will actually lose the game and your reward won't be good.
In each turn, when you show the same hand sign as Takagi-san does, you will have at most 3 more chances to show the same hand sign as Takagi-san. If you do show the same hand sign for 3 more times in a turn, it will count as Takagi-san's victory and you can continue the game.
Let's summon Takagi san in the real world!
Takagi will appear when you use the AR function and point the camera at a dedicated marker ♪
Takagi-san will be moving around naturally so you can get close to her and watch her movement in the real world♪
There will be hidden events if your happiness level with Takagi-san is high enough so make sure to play more rock-paper-scissors games with her and lose to her intentionally to improve the relationship between you two.
Rare collectible items are also available♪
Items like the original painting, storyboard, etc. from the anime can be collected through the in-game gatcha system.
Loading...