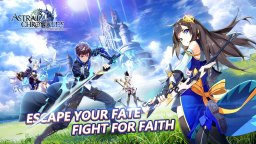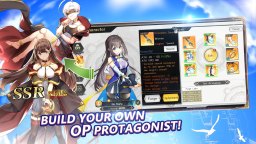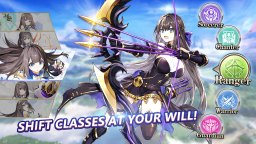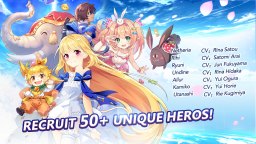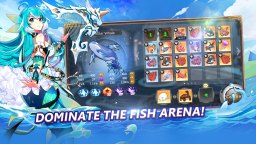 Astral Chronicles (Law of Creation 2) | Global
Astral Chronicles (Law of Creation 2)
Developer: uBeeJoy
[This game is no longer in operation.]
☞ Other Version(s): Astral Chronicles (Law of Creation 2) | Japanese | Simplified Chinese

Astral Chronicles
is a JRPG with 50+ heroes for you to recruit and each hero has a marvelous voice acting. Will you be the savior of the world and fight for your faith?

*EMBARK ON AN EPIC ADVENTUROUS JOURNEY *
Explore a vast open world as you seamlessly transition from one environment to another, unraveling plots of intrigue in this side-scrolling adventure! Take care, don't be deceived by the innocent-looking characters on your journey!
*RECRUIT MORE THAN 50 UNIQUE HEROES *
More than 50 legendary heroes of unique personalities and stories are at your beck and call. Recruit these heroes and enlist a versatile squad by bringing together powerful combinations of heroes!
*CAST SPELLS IN THRILLING BATTLES *
Cast your own spells in battle by scribing runes with your fingertips. Unleash more than 200 unique skills that you learn from your heroes!
*SHIFT AMONG 5 CLASSES AT YOUR WILL*
Start as 1 of 5 varied and customizable classes; Warrior, Guardian, Ranger, Sorcerer and Chanter. After reaching Lv. 17, you can shift to other classes anytime you wish as you forge a new team. Carve your own meta by creating the most powerful combination of heroes to turn the tide of battle with tactical gameplay!
*ALL-STAR CAST OF JAPANESE VOICEOVERS *
Musical composition: Noriyuki Iwadare (Grandia, Phoenix Wright, Langrisser)
Japanese Voiceover: Jun Fukuyama, Kumiya Rie, Yukari Tamura, Satomi Arai, Yui Horie, Yui Ogura, Shinohara Yu, etc.
Click here to the official website of Astral Chronicle:
link
Click here to the official twitter of Astral Chronicle:
link
619415
#JUEGOS_GACHA no entiendo el porque la gente se la pasa comparando este juego con "another eden" ni que tuviese tanta similitud con el mismo.


el juego es bastante amigable muy F2P, que quieran tener personajes full, ningun juego se los dejara facil si no, no tendrian sentido.


solo debes alcanzar el nivel 30 junto con tu team y listo tendras la mayoria de mecanicas desbloqueadas, puedes obtener muy buena recompensas incluso las skins son razonables de obtener.・ิ≖ ω ≖・ิ✧

semanalmente puedes obtener suficientes tickets, para usarlos en un banner que te interese.(›´ω`‹ )

el equipo es facil de conseguir, debes llevar un team estrategico y avanzar al capitulo 5 de la historia principal, te tomara unos pocos dias llegar.

que tiene que ver el pvp? de por si el juego tiene demasiados servidores por lo cual encontraras muy poca gente obviamente habra mucho desnivel porque no habra con quien emparejarte.(ง๑ •̀_•́)ง

almenos el punto fuerte de este juego a diferencia de "another eden" es que puedes explorar facil sin que te aparaezcan enemigos al azar, puedes enfrentarlos si quieres para subir de nivel. ademas no tendras que estar esperando las largas y aburridas actualizaciones semanales como sucedia en another eden que tardaba una eternidad la descarga dependiendo de tu region(ㄒoㄒ).

Ubeejoy es una compañia pequeña no les pidan demasiado, se esfuerzan mucho con este juego ya que es su balanza entre caer o subir. y me parece muy bien dedicado el juego para ser de una compañia pequeña, es asombroso como pulieron el juego, de seguro si sacaran otro juego harian una historia mucho mejor, lamentablemente en este juego su historia se siente muy corta, tiene partes emotivas y comicas.

la traduccion no es mala una que otra palabra esta mal puesta en el contexto, la historia se comprende bien, ahora que seas alguien que no lee de seguro hay muchas cosas que no conoceras, asi que no critiquen la historia mi puntuacion seria (8/10).


ademas las skins de los personajes son muy bellas si vas a gastar dinero hazlo en skins, el juego no busca ser pay to win, si compras recursos para avanzar solo desperdiciarias tu tiempo, solo compra lo que pudieses necesitar.

hasta el momento no he desbloqueado todo pero por lo que vi hay (furnitures) asi que habra un cuarto para tus personajes.


no insulten o critiquen el juego solo porque son personas que les gusta pagar o que no sepan las condiciones en que se encuentra para pedir tanto.
es un esfuerzo bastante bueno, no como la porqueria que puedes encontrar por ahi y hablo sobre compañias reconocidas y grandes.
Loading...