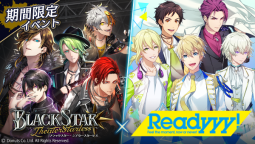 BLACK STAR: Theater Starless
BLACK STAR: Theater Starless
Developer: Donuts Co. Ltd.
Black Star -Theater Starless- is a mobile otome music game where players can train popstars of different personalities and help them perform on stage.


Those who had in this "invalid APK" error may want to follow this
GUIDE
provided by QooApp user @CatrinaGreene!
1468769
#Rhythm_Game_Bingo
BLUE circles : STILL Playing
(+ensemble stars; +hypnosis mic; +project sekai; +twisted wonderland; +argonavis; +the idolm@ster sideM:growing stars; +honeyworks premium live)

RED circles : HAVE Played
(+voez; +d4dj; +arcaea; +anidol idols)
970818
อีเวนท์เริ่มในวันที่ 12 ก.พ. จนถึงวันที่ 24 ก.พ. 12.59 (ตามเวลาไทย)

พบกับวันวาเลนไทน์กับทีมC ในแนวธีมวันเดอร์แลนด์ x วาเลนไทน์ พร้อมกับกาชาของพวกเขาได้แล้วนะคะ

สำหรับเพลงในอีเวนท์เป็น "In to Me" นักร้องซาคุโระจากทีมC
และยังได้รับการ์ด ★5 ของซาคุโระได้ในอีเวนท์ เมื่อทำแต้มคะแนนถึง 300,000P

Loading...