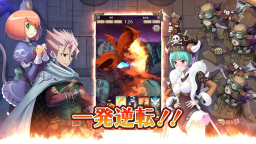 Dragon & Colonies
Dragon & Colonies
Developer: LEVEL-5 Inc.
[This game is no longer in operation.]
Dragon & Colonies
is an adventure RPG developed by LEVEL-5 for mobile. Players can form their kingdom and battle with other online players. There are different classes for players to choose from, and each class has its edges and weaknesses. Form your unit and defeat others!
Loading...