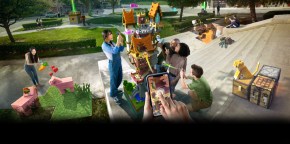 Minecraft Earth
Minecraft Earth
Developer: Mojang
More from the same developer

Minecraft

Minecraft

Minecraft | Global

Minecraft | Global
[This game is no longer in operation.]
[The game server will be shut down on 30 Jun 2021. ]

Minecraft Earth is an all-new AR game for your mobile device that brings Minecraft into the real world. Go on exciting adventures, build something incredible together with friends, and then step into your life-sized creations!
Minecraft Earth is only compatible with iOS 10+ and Android 8+ devices.
CREATE
Minecraft has always been a game about creativity, but Minecraft Earth gives you the chance to express yourself on a whole new scale. Share your masterpieces and delve into others' creations!
COLLECT
Minecraft Earth features many of the mobs you know and love, along with a bunch of new ones. Over time, you'll get the chance to breed unique variants, and use them to populate your builds.
COLLABORATE
Meet up with like-minded crafters and create masterpieces together. Work on a smaller scale with friends before taking your builds out into the wild at full size. You can even team up with others for mini-adventures!
EXPLORE
Your real-life neighborhood takes on a whole new dimension thanks to Minecraft Earth. Gather resources, take on challenges, and share your imagination with others. There's a whole new world to discover!
493126
Netizen (Twitter@sayaendoo000) made a block on his ceiling into a #Minecraft diamond block!
Now I want to climb up and mine it with my fist!

Loading...