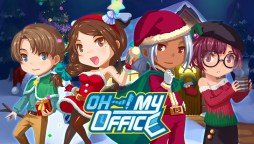 OH~! My Office
OH~! My Office
Developer: Twitchy Finger Ltd.
OH~! My Office is a business simulation game where you can time travel to save your company!

The company your father built is about to go bankrupt. It is the last day. With all your employees packed and saying their farewells, only you and your loyal secretary Elsa remain to close up one final time. Right at this moment a mysterious girl Kana appears. She offers you the chance to travel to the past and change the fate of your company. She brings you back… all the way back to the day your father founded the company. Confused and lost in time, you hope to find your father to explain what has happened, but instead he has gone missing. You now must run the company in your father's stead, find out what has happened to him, and all the while uncover how this mysterious Kana is involved with all of this...

Whip Your Staff Into Shape!

Slackers beware! Whether it is a nap or playing on your phone, those who slack off will be severely punished! To ensure every moment of your employees' time is spent raising profits, you are given "The Hammer of Productivity" to bring out the "best" in your staff!

Money Well Spent

Profits earned should always be invested in growing your business empire. Equip your office with better facilities, equipment, office pets or give yourself a makeover and arm yourself with a variety of "motivational tools". Huge selection of upgrades to take your company to the next level!

Your staff is the company's best resource. The game features a large cast of colorful and unique characters each with their personal abilities and talents. Build up your dream team and become the next billion dollar unicorn!

- 11 Chapters to push your company to all new levels!

- Over 50 unique staff to choose from, 10 different types of staff each with 6 unique abilities!

- Customize, modify and arrange your office layout. Special office items to help you become a global company!

- Deep avatar system to customize yourself to be the ultimate boss!

- Don't just act like a Boss, Dress like a Boss too!

- Lots of "management tools" at your disposal!

- 100% Pet Friendly Office!

- Cast of Colorful Characters
185773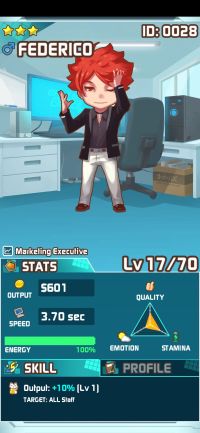 Tips and tricks on starting this game
1st how to play efficiently
-Know the faces even the robots and glasses...
-The game shows you that you can fast tap or long tap to punish people (namely elly)
Most people missplay by waiting them to slack off to perform long tap while you can just hammer em when they are lookin around.
-the best way to hammer is to hammer then hammer again at the same time so you don't waste time (you can use 2 charges simultaneously and when it recharge you can do it again twice )

2st What's the best 3 star
I'll say federico
Loading...