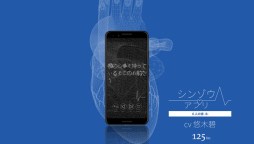 SHINZO APP Six of Him -B- | Aoi Yuki
SHINZO APP Six of Him -B- (cv Aoi Yuki / 悠木碧)
Developer: 125 Inc.
☞ Other Version(s): Ryohei Kimura
Legend has it there was a brutal punishment known as [the heart gibbet].
The wrongdoer's heart was removed from its body for public display. With the modern technology, our application brought back the punishment [the heart gibbet] to life. The wrongdoer's heart will possess your personal device, and you will be hearing his voices.
How does he react with this punishment?
What made him being punished like this?
And what happens to him in the end.....
Listen to his VOICE, and listen to his 'HEART'.
Genre:
Voice Adventure Game (cv Aoi Yuki 悠木碧)
Spec:
・Play free for first about 5 minutes.
・It is non-text-base application, but by touching screen you can display text messages.
・There are several "HIS HEART" stories. Free to play the beginning of the story. Purchase to unlock the rest of the story.
・Bookmark feature allows you to replay the voice from the application. This feature also allows you to edit lines in the all combination of your choice. Purchase to use the full bookmark features.
Language:
Voice: Japanese
UI: Japanese, English, Simplified Chinese, Traditional Chinese
Loading...