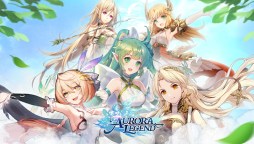 Aurora Legend | English
Aurora Legend
Developer: Rastargames
[This game is no longer in operation.]
☞ Other Version(s): Simplified Chinese | Japanese | Korean | Traditional Chinese | Simplified Chinese
Aurora Legend
is an RPG.
Aurora is a fantastic world where you will become the captain of hundreds of magnificent Heroes which will coordinate their powers at your desire. Create and develop the perfect strategy to achieve victory after every single battle and let the adventure lead you with the story of its magical lands. Explore original random dungeons, co-op with other players in this Skyland and enjoy the immersive experience with dramatic storylines and sensational challenging battles.
This artistic masterpiece will surround your ears with the perfect voices of Kana Hanazawa, Aoi Yuki, Sora Amamiya, Tomokazu Sugita (and many other great Japanese voice actors). Enjoy the fabulous soundtracks also created by notable producers. Aurora will be a gift to eyes with perfect visual content from many famous illustrators and designers.
It's your turn to become a legend in the Skyland!
139879
no matter which vpn i use still no server found ... DEVS where are You and what are You doing? i want to play ffs
139093
I heard that the game still has some bugs in European region...If you want to play the game try to use vpn for non-European region. Personally, I am in Asia region and the game works perfectly for me! Hope this helps!
Loading...