Alice Closet | Japanese
Alice Closet
Developer: DMMGAMES
More from the same developer

Legeclo: Legend Clover

Blue Reflection Sun

TOKYO NECRO SUICIDE MISSION | Japanese
[This game is no longer in operation.]
☞ Other Version(s): English | Korean
[The game server has been shut down on 31/08/2022. ]

Alice Closet is a fashion simulation game with illustrations provided by Phantom Thief Jeanne series' mangaka Arina Tanemura. In Alice Closet, you'll be responsible for dressing and matching your dolls with your favorite outfits. Take to the stage and participate in world tour competitions where you'll be showing off who has the most glamorous doll in your paradise!
255059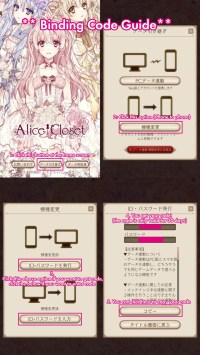 **How to get binding code**
The code is only vaild for 30 days!
Loading...