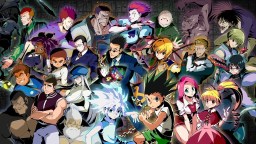 HUNTER × HUNTER Greed Adventure
Developer: BANDAI NAMCO Entertainment Inc.
[This game is no longer in operation.]
Hunter x Hunter: Greed Adventure
is set after the Greed Island arc. Under the influence of the Hunter Association, Greed Island evolved, becoming Greed Island 2 (G.I.2). What will this evolution bring? Additionally, the game will also have flashbacks to scenes from the series.
The game features a simple 1-tap control which activates a character's skills in battle. Players are able to further enhance their characters by equipping skill cards on to them. Each skill card has different effects, allowing characters to unleash all sorts of additional attack and recovery skills.
727676
RULES:
⚠️PHOTOS MIGHT CONTAIN SPOILERS⚠️
⚠️ This post series is just a bunch of questions for personal tastes. Thank you for understanding
❌ NO fighting
❗Discussions are allowed
❗These are for subjective reasons. DON'T criticize and DO respect each other's opinions

Here's the question:
Which do you prefer IN GENERAL? Manga or Anime?
545158
Killua Zoldyck from Hunter X Hunter
#Anime_Reboot
Loading...