Bungo Stray Dogs: Tales of the Lost | English
Bungo Stray Dogs: Tales of the Lost
Developer: Crunchyroll Games
More from the same developer

RWBY: Crystal Match

Mob Psycho 100: Psychic Battle | English
☞ Other Version(s): Simplified Chinese | QooApp version | Traditional Chinese | Japanese
Bungo Stray Dogs: Tales of the Lost -
also known as Bungo Stray Dogs: Mayoiinu Kaikitan - is the first ever mobile game based on the hit anime series Bungo Stray Dogs!
Take part in the mysterious literary battles of the Armed Detective Agency!
▼Anime scenes right on your phone!▼
The main story features extra information and new viewpoints on the original anime storyline!
Experience famous scenes and popular characters interacting in your very hands!
Event stories will feature never-before-seen game-original scenarios, as well as side stories not covered in the anime!
▼Easy-to-play Ability Battles!▼
Just pull and release to launch your attacks with the simple to use Ability Fling system!
High-power Abilities come with cool cut-in animations, too!
Beast Beneath the Moonlight, No Longer Human, Rashoumon...
Use these incredible Abilities to turn any fight in your favor, as the mini-characters move and attack with striking force!
▼Make your own original teams!▼
Featuring characters from the original anime, as well as characters in game-exclusive outfits, plus a range of adorable mini-characters taking the fight to their enemies!
Always wanted to see the Armed Detective Agency and Port Mafia working together? Now's your chance to make it happen!
Form your very own team and explore the dark and mysterious world of Bungo Stray Dogs!
▼Featuring original voice acting & new illustrations!▼
Nakajima Atsushi (VA: Yuto Uemura)
Dazai Osamu (VA: Mamoru Miyano)
Kunikida Doppo (VA: Yoshimasa Hosoya)
Edogawa Rampo (VA: Hiroshi Kamiya)
Izumi Kyouka (VA: Sumire Morohoshi)
Akutagawa Ryuunosuke (VA: Kensho Ono)
Nakahara Chuuya (VA: Kisho Taniyama)
943442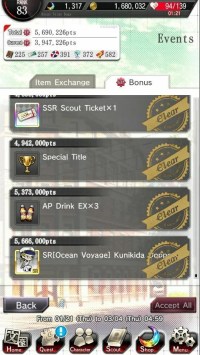 I grinded so hard for this and it was worth it

Thank god they changed the event a bit or not it would be seriously impossible to get it
902087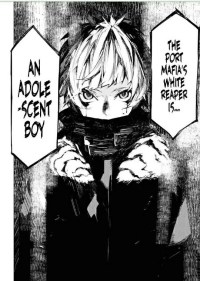 Haven't finished it yet but it's good so far
ATSUSHI HE LOOKS SO GOOD
(May contain spoilers)
Loading...