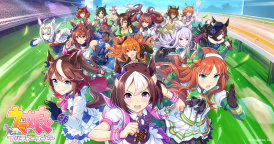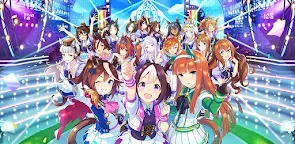 Uma Musume: Pretty Derby | Japanese
Uma Musume: Pretty Derby
Developer: Cygames, Inc.
Uma Musume Pretty Derby is a simulation game released by Cygames for Android, iOS, and PC (DMM GAMES) platforms. The game is only available in Japanese for now. Besides the game Uma Musume Pretty Derby, Uma Musume also has a series of anime, manga, etc.
Most of the characters in the game use real-life racing horses as their prototypes. Players will act like a newbie trainer to help the Uma Musume to win the Twinkle Series tournament and fulfill their dreams.
After players pick their horses, they will need to train them based on their attributes including speed, stamina, power, temper, intelligence, etc. ( Some of the attributes can be inherited by new characters)
During their training, your Uma Musume may come across different obstacles. It is your job to communicate and solve their problems!
Moreover, the game will hold various events according to actual time and seasons.
Cast:
Special Week (CV: Azumi Waki)
Silence Suzuka (CV:Marika Kouno)
Tokai Teio (CV: Machico)
Oguri Cap (CV: Takayanagi Tomoy)
Gold Ship (CV: Hitomi Ueda)
Vodka (CV: Ayaka Ōhashi)
Daiwa Scarlet (CV: Chisa Kimura)
Mejiro McQueen (CV: Saori Oonishi)
Symboli Rudolf (CV: Azusa Tadokoro)
Rice Shower (CV: Iwami Manaka)
Haru Urara (CV: Yukina Shutō)
Nice Nature (CV: Kaori Maeda)
and more!
Official website: https://game.umamusume.jp/
Official Twitter: https://twitter.com/uma_musu
---Below is the information provided by the developer---
☞ Other Version(s): Traditional Chinese
Uma Musume: Pretty Derby
is a casual game developed by Cygames.
Uma Musume is anther specie that has inhabited human's world for a very long time. One of them, Special Week, transfers from her suburban hometown to the training centre academy in the city. There, she begins her exciting journey to becoming "The NO.1 Uma Musume of Japan".
1536201
My highbreed Maruzen lose debut race and got last place
...
Tazuna say my Maruzen don't have enough speed
...
But other UmaMusu not even have more than 100 stat
...
Well no luck...

1495159
Unique Skill
I'll Show You White Lightning!
In the second half of the race on a straight, if you're in a good position or aiming for one from the back of the pack, you will start running like a lightning bolt
Innate skills

Hold Your Tail High
Slightly increase speed if many skills were activated during the Middle Leg

Inazuma Step
Medium Become lightly harder to box in if behind in Middle Leg

awaken
Level 1
Position Swiper
Betweener Slightly increases speed during the Middle Leg
Awakening skills
Level 2
Favorite Place
Leader Become slightly harder to tire during the Middle Leg
Level 3 (Rare)
Quick and Decisive
Betweener : Increases speed during the Middle Leg
Level 4
Straight Shot
Chaser : Slightly increases acceleration on the straight in the Last Spurt
Level 5 (Rare)
Tail of Victory
If you activate a lot of skills in the Middle Leg, your speed will increase.


Special events exclusive for her

Win Takarazuka Kinen, Tenno Sho Autumn, Japan C, Arima Kinen at the senior year
Reward
Speed ​​+15
Gut +10
Tips for " hold your tail high" Lv + 2

Akindo Guts! (trigger randomly)
【Great success】
Acquired "cut pieces"
Wisdom +15
【success】
Speed ​​+20
Wisdom +10
[Failure]
Speed ​​+10
Wisdom +5

Overall she's solid
the third possible Chaser type in the game and thats preety scary due to how chaser often dodge debuff
Gold ship Stat training stat (20% stam 10% power)
and her skill proc in the middle just like goldship, expect theres a condition where you want her to chase for the 6th slot to get the Powerful unique

the awakening have different positions which baidcly meant you only have 1 rare skill that you can apply to this horse is which basically limit the rare skill potential
but pair her with hayakawa make hold your ttail high Level 5 hint without hitting stuff like marvelous sunday hint
which is hilarious

building her gonna be the tricky tho
if you want the generic skills you go make her as a betweener (more likely to trigger her unique)
and if you want a full burst middle spam you make her a chaser (potentially stronger than goldship if it work)

Loading...