SWORD ART ONLINE: Memory Defrag | Global
SWORD ART ONLINE: Memory Defrag
Developer: BANDAI NAMCO Entertainment Inc.
[This game is no longer in operation.]
☞ Other Version(s): Asia | Japanese
[The game server will be shut down on 30 Aug 2021. ]

SWORD ART ONLINE: Memory Defrag is a free 2D anime action RPG inspired by classic arcade beat-em ups with simple intuitive one touch controls!
Experience every aspect of SAO as characters crossover from the anime, manga, games, and side stories!
FLUID, ACTION PACKED 2D GAMEPLAY
- Tap to attack and unleash blistering combos!
- Block & parry, then SWITCH! to finish your foes.
LIVE ONLINE MULTIPLAYER
- Party up with friends and other players in LIVE co-op missions!
- Become a Healer, Attacker, or other traditional RPG roles and unleash devastating combo moves with your allies
EVERY SAO CHARACTER AT YOUR FINGERTIPS
- Collect beloved characters such as Kirito, Sinon, Yuna, and LLenn and more daring sword fighters from the manga and anime!
- Upgrade each character with unique weapons and equipment, such as the Elucidator and Dark Repulser swords!
ENTHRALLING STORY
- Relive the classic arcs of the popular Japanese anime and manga series as our heroes traverse the virtual MMO RPG of Sword Art Online!
- Experience virtual action-packed adventures from outside of the anime such as Ordinal Scale and SAO Alternative: GGO as well as all-new stories unique to SAO: Memory Defrag!
Guide Kirito and the Assault Team through the virtual RPG world of Sword Art Online, as they fight to clear 100 floors of Aincrad and free themselves from the death game! Gain new allies in Alfheim Online and battle to ascend the World Tree. Travel to the barren world of Gun Gale Online to stop the killer "Death Gun" before he strikes again!
What are you waiting for? The fate of the virtual world rests in your hands! LINK START!!!
1360753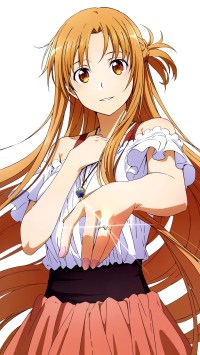 #Anime #Birthday #Asuna #SAO
Today is the birthday of yet another waifu! Yuuki Asuna, also known as "Flash", is a kind and caring heroine. Watching her and Kirito's interactions in the Aincrad arc was fun, and the fact that she being a healer but always charged in with her rapier in ALO was also interesting. No wonder she is called Berserk Healer
Anyways, happy birthday to Asuna!
1156899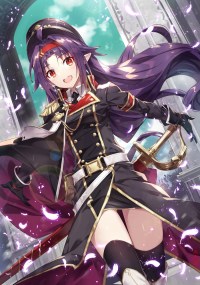 ◇ Yuuki Konno◇
《Artwork by 我美蘭☆FGOAC概念礼装》
《Source》https://www.pixiv.net/en/artworks/88542296
Loading...