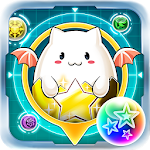 パズドラレーダー
Developer: GungHoOnlineEntertainment
Version:2.1.1 (2017-12-10)
APK Size:77.53 MB
Requires:Android 4.0 +
Express download: scan QRCode using QooApp. If you have already installed QooApp:
Open now!
Description
Featuring the characters of hit puzzle RPG Puzzle & Dragons, this app lets you hunt for treasure with GPS!
Time to embark on a new treasure hunting quest!
------------------------------
* About Puzzle & Dragons Radar *
------------------------------
Puzzle & Dragons Radar is a game in which GPS location information is used to reveal Orbs, treasure, and other collectible bonuses on the in-game map.
This original game progresses as you go about your daily activities!
* Search the Map!
Tap the Search button to reveal nearby Orbs on the map!
Touching the Orbs allows you to collect them. Collected Orbs can then be exchanged for bonus items!
* Connect with Puzzle & Dragons!
By linking the two apps, bonus items collected in Puzzle & Dragons Radar may be enjoyed in the main Puzzle & Dragons game.
Boost your daily Puzzle & Dragons experience with Puzzle & Dragons Radar!