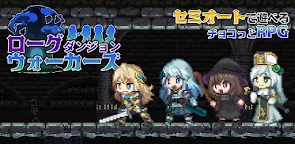 Rogue Dungeon Walkers
Developer: YohiyukiNakashima
Rogue Dungeon Walkers is a role-playing game developed by YohiyukiNakashima .
In this game, you will play the role of a newly established guild leader, supporting various adventurers and growing your guild to become the top one.
============================
game introduction
============================
The world is in the "age of great adventure"!
Countless dungeons popping up all over the world
Dropped by monsters in the dungeon,
In order to find the treasure, countless adventurers aim to seize the maze
ーーTime has passed xxxx yearsーー
Dungeon raiding has become a standard occupation on par with civil servants.
"Guilds" for the purpose of supporting adventurers also came into being.
what is a guild
By giving guild adventurers 20% of the rewards earned in dungeons,
An organization that provides various support for adventurers.
And from now on, the game
"You" are playing in a new guild,
Supporting adventurers as the guild master,
This is a story with the goal of becoming the number one guild.
Loading...