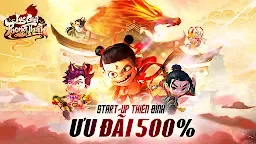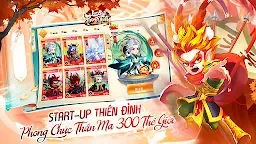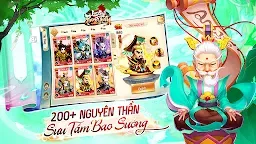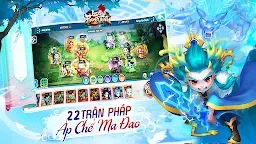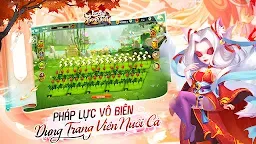 The Six Worlds Wind God
Developer: SOHAGAME
The Six Worlds Wind God is a casual RPG developed by SOHAGAME.
Startup Heaven - seal 300 worlds of gods and demons
Free legendary general SS, 1500 soul jade, 1 million gold
God's anger, evil, evil, evil. Play the role of the savior hero, lift the seal and rebuild the order of yin and yang.
Who is the god and who is the devil in these six realms? Everything depends on you!
★★★ Amazing graphics ★★★
• Cute, bright and colorful design style of small characters, with vivid animation as the title, will bring you into a fantasy world based on oriental myths and legends.
• Advanced graphics technology makes every game a stage for skill display, visual effects and spectacular scenes. War is necessary!
★★★ 200+Yuanshen - Fengshen Baochang ★★★
Throughout my childhood, I read stories and watched movies here, and all the names of heaven, earth, people and demons were shocked. Recruit easily, kill demons and subdue demons together, improve cultivation and become the supreme leader of the Heavenly Kingdom.
• Whether it is graphics, modeling or user interface design, it reflects the charming ancient myth style. With rich storyline settings, the decapitator can explore the source and understand the story behind each general.
★★★ 22 French war - super map scanning ★★★
• Confronting force always needs to be more tactical than people. The Six Kingdoms of God brings 22 sets of fantastic formations for players to use flexibly. Every game has different quality, and no game is the same.
★★★ Make a big fuss and cross over - collect Wukong ★★★
• Every conquest milestone will receive generous rewards, possibly the superhero SS vip series. The Six Kingdoms of God has a lively copy system with various types, which requires different ways of traversing to win rich and easy access to materials.
• General systems have rich upgrade functions, constantly increasing indicators, and creating unpredictable "underground tactics" for the opponent.
Novice Tour
• Optional SS general starts the journey
1500 soul jade, 1 million gold
Log in for 150 tickets on the first day
Receive gifts online: 800000 gold coins per day, 20 pieces of mythological photos
Loading...